Class Changes in July
Jun 20, 2015 by Dave
I'm otherwise committed for a week or so next month, so there are some changes to scheduled classes. No training at Wynnum or Newstead from Friday 3 July to Friday 10 July inclusive. All back to normal from Sunday 12 July. Apologies for any inconvenience.
Bill Gleason Sensei in Brisbane
Jun 15, 2015 by Dave
We had a fantastic weekend of aikido with Bill Gleason Sensei. For those unfamiliar, Bill Gleason is one of a very few people able to demonstrate and teach the principles of internal power inherent to aikido. In other words the"aiki" part of aikido. The training is not easy and certainly challenging to be taken out of your comfort zone. Big thanks to Gleason Sensei for coming all the way from Boston to teach his stuff out in the boondocks at Gumdale . We also owe a big vote of thanks to Steve Seymour from Sydney for facilitating Sensei's visit to Australia, Michael Nash, and Kim Walker (Mr and Mrs) for organising the Brisbane leg of the tour. Unfortunately sickness and injury prevented attendance by most Baysiders, although Col soldiered through Sunday and picked up some weapon skills along the way. The only downside was an overall disappointing turnout by the Brisbane aikido community, those who did attend benefited from fewer numbers and getting hands on. For the people out there that didn't make it….well you missed your chance.
Class Changes
Jun 1, 2015 by Dave
I'm out of town with the Jo/Iai East Coast Seminar in Canberra with Nagayama Sensei next weekend and the following weekend Bill Gleason Sensei is in town for aikido.
Consequently, there are some changes to scheduled classes. No training next Sunday 7 June. No Iai at Newstead on Friday 12 June and no aikido on the Bayside on Sunday 14 June. Iaido will be on, but we will start swinging swords at 0700 rather than 0800.
Upcoming Events
April 29, 2015 by Dave
There are as few event in the pipeline in June. Nagayama Sensei will be in Canberra over the Queen's Birthday Long Weekend 6-8 June, teaching jodo and iaido as part of his annual East Coast Tour. Much closer to home, Bill Gleason Sensei will be visiting Brisbane and conducting an aikido seminar on the following weekend 12-14 June. Friday night will be at the Brisbane Aikikai and Saturday and Sunday at the Ohori Dojo at Gumdale.
Timetable Changes
April 29, 2015 by Dave
Brisbane Aikikai will be hosting Takase Sensei next weekend 1-3 May. As a result there will be no iaido at Newstead on Friday 1 May. Also Sunday morning iaido at Wynnum will be from 7-8am, aikido Sunday morning is cancelled. Aikido fans should head to Brisbane Aikikai for the class with Takase Sensei from 9am-12md.
Also, I will be out of town for a few days early next month. There will be no aikido at Wynnum on Thursday 7 May or iaido at Newstead on Friday 8 May.
Dojo Opening and Seminar with Shimamoto Shihan
April 29, 2015 by Dave
We've just had a fantastic weekend with Shimamoto Shihan. It was a pretty tight schedule, arriving Friday, an introduction to zazen on Friday evening, dojo opening keiko on Saturday afternoon, and open seminar all day Sunday and then back to Japan later on Sunday night. We were still putting finishing things in the shed on Thursday evening so we can literally say that the first class in our new dojo was taken by Shimamoto Sensei. It's also fair to say that we are pretty unlikely to have a better aikido class there from now on, or at least until Sensei visits us again.
Due to space restrictions we were only able to cater for limited numbers on Saturday afternoon. However on Sunday, due to the hospitality of Stewart Brain Sensei we were able to enjoy the extra space at the Ohori Judo Club at Gumdale. As always, time spent in classes with classes with Sensei tend to fly by, this time around he stressed the importance of shizentai (natural posture) and opening the chakra points. He kept returning to that theme and was really in great form.
Sunday finished on a high note with Dan gradings. It was a great effort by all the candidates and congratulations to Joanne Dinh 2 Dan, Sue Reilly 3 Dan, Damon Schearer 4 Dan, and Lynford Rosos 4 Dan. Everyone did very well but there's been a lot of talk about the Ronin's performance, as being quite sublime.
It is hard to express how grateful we are for Sensei to take time out from his busy schedule to come all this way to support us. The only sad note was that Mama San couldn't join us this time.
Personally I'd like to thank everyone who has supported getting our little dojo up and running, and organising things on the weekend. The list is long, but special mention has to go to Sharma, Rob, and Col for bringing their handyman skills. Thanks also to everyone who came and supported the event and a really big acknowledgement for Patrick Lloyd who came down from Noosa and interpreted for Sensei during the seminar.
Here's a few shots of Shihan in action on the Bayside.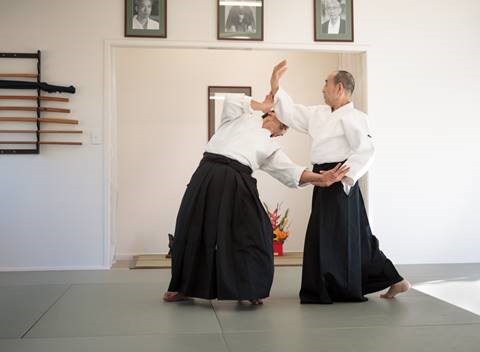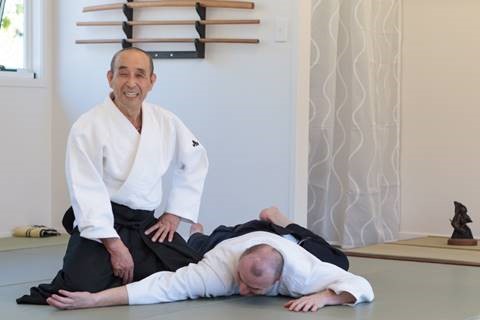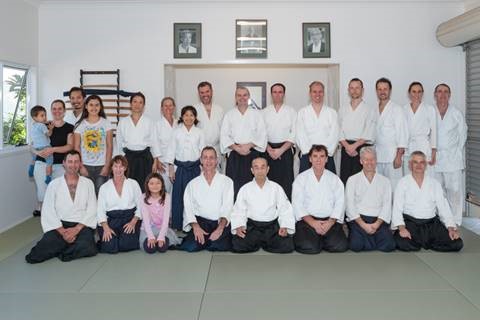 Shimamoto Shihan in Brisbane 2015
Mar 1, 2015 by Dave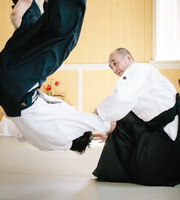 Bayside Budokai is pleased to announce an aikido seminar with Shimamoto Shihan from the Toyonaka Shosenji Dojo in Japan.
Shimamoto Sensei (8 Dan) is one of the most renowned Aiki-kai teachers in Western Japan and was a student of the late Osawa Sensei, former Hombu Dojo-cho.
In daily life, Sensei is a Buddhist priest and master of the Shosenji Temple. His graceful style of aikido reflects a unique integration of aikido and the principles of Zen.
This is a rare experience to train under a master level teacher and should not be missed. All Aikido students, regardless of experience or affilation, are warmly welcome to attend.
DETAILS
Sunday 26 April 2015 9.00am - 12.00pm 1.00pm - 3.00pm 3.15pm – 4.00pm (Grading Tests)
Ohori Judo Club
40 Molle Road
Gumdale Qld
Cost: $50 per session $80 full day Lunch (optional) $10:
Inquiries: Dave Kolb 0409 250065 dkolb@bigpond.net.au
IJSC 2015
Feb 21, 2015 by Dave
The AKR Iaido Jodo Seminar and Championship was held in Canberra from 19-25 January 2015. I went down for a few days with Sue and Sharma making up the rest of the Bayside contingent. Turned out to be a pretty successful week, Sharma won the individual 1 Dan iaido competition and then passed the examination for 2 Dan. Special congratulations to Sue Reilly who passed 4 Dan iaido. What a great effort! Here is a picture of the happy and successful grading candidates.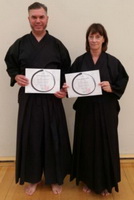 Doshu Seminar Aiki kai Australia 50th Anniversary
Feb 21, 2015 by Dave
After Canberra I made it to Melbourne and managed to attend classes by Aikido Doshu Moriteru Ueshiba at the Aiki Kai Australia 50th Anniversary Summer School. Whilst down there I managed to catch with the Bayside Ronin and our friend Roland Stettler.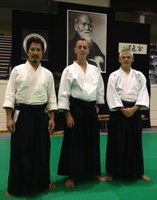 Upcoming Events
Feb 21, 2015 by Dave
No shortage of events in the pipeline. We are happy to announce that Shimamoto Shihan will be visiting us from 24-26 April. This will be closely followed by a seminar with Takase Shihan hosted by the Brisbane Aiki Kai on the following weekend. On the iaido/jodo front Nagayama Sensei will be conducted the annual East Coast Seminar in Canberra over the June Queens Birthday long weekend. Then back in Brisvegas there will be an aikido seminar with an internal power flavour by Bill Gleason Shihan 7 Dan from 12-14 June. Exciting stuff. Stay tuned for details.
Welcome to 2015
Feb 21, 2015 by Dave
Welcome back for 2015. Unfortunately, preparation of our new training venue is proceeding a bit slower than expected meaning that classes at Wynnum are yet to resume. However, Friday evenings at Newstead are on and the Bayside Budokai crew have been out and about continuing their training.