Back in Contact
Jul, 05 2020 by Dave
Pretty cool weatherwise this morning on the Bayside, but a great day to reintroduce aikido techniques with physical contact. Taking it slow though, it's been a while.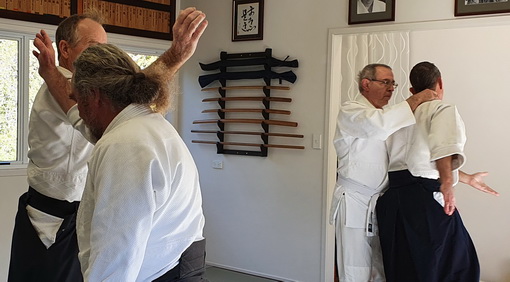 New Resumption Date
Jun, 03 2020 by Dave
The government has announced an early introduction of the next stage of eased restrictions. Training as per our standard schedule will now resume on Sunday 7 June.
Additional hygiene measures will apply. See you then!
Resumption of Classes
May, 20 2020 by Dave
The good news is that with the commencement of the next stage of relaxation of COVID-19 restrictions we will be able to resume training.
Classes will recommence as of Sunday 14 June. Training is scheduled as normal but will be in a modified format to meet social distancing and hygiene conditions.
Passing of Oda Katsuo Sensei
Apr, 28 2020 by Dave
We were sad to learn of the death of Oda Katsuo Sensei 8 Dan Hanshi iaido on 19 April 2020. Oda Sensei was the former Technical Advisor for iaido to the AKR and made a significant contribution to the development of the art in this country. More details about Oda Sensei and his support to Bayside Budokai are provided in the following article available here.
COVID-19 Training Suspension
Apr, 25 2020 by Dave
As a result of the Chief Health Officer's Direction, all scheduled training classes are suspended as of 24 March 2020 until further advised. Hopefully, we will be able to get back to normal before too long.
In the meantime, we need to be responsible and observe the social distancing restrictions. Please everyone keep active and positive as we look forward to a fresh start.