No Training: Tues 18 February
Feb 4, 2014 by Dave
I'm out of town for a few days, so no training on Tuesday 18 February (juniors aikido and iaido).
Washup from the IJSC
Feb 4, 2014 by Dave
All said and done, we had a great week at the AKR Iaido Jodo Seminar and Championship from 20 to 26 January. The contingent of Sensei led by Technical Advisors Oda Sensei (iaido) and Nagayama Sensei (jodo) were in fine form with some of the junior members of the group like Igarashi san and Yaguchi Sensei making a huge effort to lift the level of their respective groups.
Here's a snap of Igarashi san passing on some finer points to the mudansha group that included a few Baysiders. I don't know what Georgie was doing there.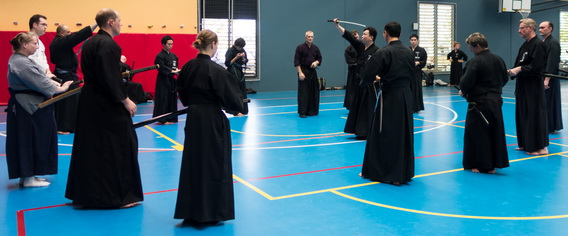 Tom Johnson, the Queensland Representative on the Iai Board did a massive job in putting things together, and to his credit everything ran like clockwork in spite of the oppressive heat on a few of the days. Good news on the grading front was that Sharma Wrightson passed shodan for iaido and our good friend Steve Dodson from Noosa nailed 3 dan. Bad news was that Sue and Bruce missed out this time on 4 dan. Lucky ducks now have an excuse for some really hard training before they challenge again.
A personal highlight for me was the attendance of Mr Andrew Hay (President) and Dr Fuji Chamberlain of The Australia Japan Society Queensland as guests for the Championship Events. Back in 1993, I received a grant from the Society that enabled me to go to Japan for the first time. During that trip I made contact with Shimamoto Shihan for aikido and Obayashi and Ikeda Sensei for iaido. It's safe to say that if it wasn't for the Society we wouldn't enjoy the close links and opportunities we enjoy today.
Here's another photo of yours truly and Dr Chamberlain.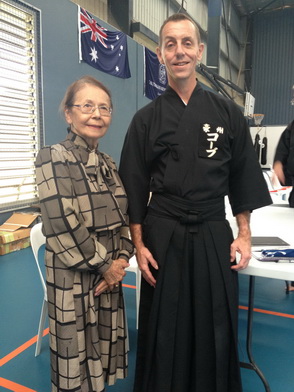 Class Changes Next Week
Jan 18, 2014 by Dave
The AKR Iaido Jodo Seminar will be held at Redbank Plains all of next week. As a result there are a few changes to our normal program. There will be no training at Wynnum on Tuesday 21 January (juniors aikido & iaido) and Sunday 26 January (iaido & aikido). Also no iaido at Newstead on Friday 24 January. Thursday evening class (aikido) will be on as normal. The seminar will be happening from 9.00am to 4.00pm each day at the Collingwodd Park Sports Complex with competitions on Saturday and gradings Sunday morning. Drop by and check it out.
Back in Business for 2014
Jan 05, 2014 by Dave
We are now back in action for 2014. Welcome to the new year and the record hot weather, this being in spite of the bay breezes down here at the seaside. Nice to see the return of Gotaro at keiko this morning. First item on the 2014 agenda will be the AKR Iaido and Jodo Seminar at scenic Redbank Plains,(no bay breezes out there). Anyway, this will involve some class changes during the week 20-26 January. Stay tuned for details.