Thanks for the Great Year
Dec 22, 2008 by Dave
2008 is almost over and I would like to thank everyone for all their hard work and support. That is not restricted to those who have come along and practised but everyone who has supported them throughout the year. Personally I'd like to especially than the parents of the juniors and also Marty Towers from Think Creative who has been a massive help with designs for our brochures and more recently grading certificates.
On the subject of gradings, big congratulations to all who completed tests last Thursday. John Kneeshaw received 3 kyu and Tim Hanlon 4 kyu. Among the juniors, Flynn Jullyan received 9 kyu, Roberto and Annika Quesada together with Jae Rundle received 10 kyu. Well done everyone. A picture of the happy gang can be found below.
Most people are aware that classes will continue over Christmas and New Year but there will be no training on the actual public holidays.
For those that might have time on their hands over the holidays, I finally got around to completing a story on our trip to Japan in October. It can be found here.
In the meantime Merry Christmas to all.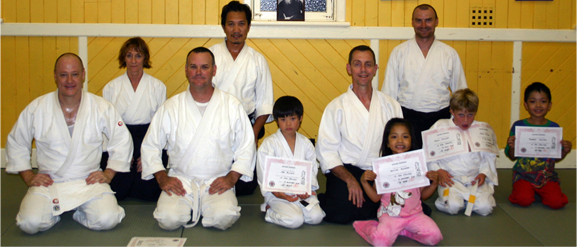 Up Coming Events
Nov 24, 2008 by Dave
In addition to the National Iaido and Jodo Seminar in January, there's is a bit happening locally in the next few weeks. Aikido kyu gradings for juniors and seniors are scheduled for Sunday 7 December. Following weekend (13- 14 December) will be the Qld Kendo Renmei Seminar at the Kenshinkai Dojo at Mt Gravatt. This will include iaido training on the Saturday and gradings Sunday morning.
Reminder National Iaido & Jodo Seminar
Nov 24, 2008 by Dave
The AKR National Iaido and Jodo Seminar in Canberra 19 – 25 January 2009 is fast approaching.
The makeup of the Japanese Sensei delegation has been confirmed as follows:
Katsuo Oda iaido 8 Dan Hanshi
Kuniaki Nagayama iaido 7 Dan Kyoshi, jodo 7 Dan Kyoshi
Tetsuo Ohara iaido 7 Dan Kyoshi, jodo 6 Dan Renshi
Shuji Chaida iaido 7 Dan Kyoshi
Toyoko Shoji iaido 6 Dan Renshi, jodo 7 Dan Renshi
Hisao Tsuchiya iaido 7 Dan Renshi
Natsume Yazawa iaido 6 Dan, jodo 4 Dan


Anyone interested in attending will need to forward their registration and payment through me. More details and registration forms are located at the seminar website. Please note that the early bird registration discount expires on 12 December.

Contact me by email or phone 0409250065 and I'll provide bank account details for electronic transfer.
DB Rocks Bayside Budokai
Nov 24, 2008 by Dave
We've just had a great day with David Brown Sensei with guests coming from far and wide. This included Shosenji Cop from Darwin, who it seems is no longer content with stalking me overseas and now wants to get on to my home turf. Anyway back to the story, DB was full of life and gave us a heap to work on until his next visit when he will hopefully be a new man complete with newly installed bionic hip. Seriously though, best wishes to Dave from us all for a speedy recovery. Photo below shows the Wizard invading the Ronin's personal space.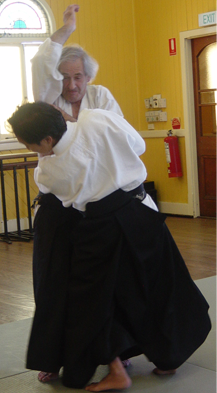 David Brown Next Month
Oct 30, 2008 by Dave
As promised David Brown 6 Dan will be visiting us next Month. Rather than the full weekend on 29/30 November, Brown Sensei will be our guest on Sunday 23 November only. Training will be from 0900 to 1200 hours, cost will be $25. This session is open to all, but space may be limited. Hope to see you then.
Back from Japan
Oct 30, 2008 by Dave
Naoko, Emiko, and I made it back safely from our trip to Japan and all classes are back to the normal schedule. I intend providing more detail when I get a chance. For the time being though, we had a great couple of weeks. From a budo perspective I had the opportunity to practise some iaido at the Shudokan Dojo at Osaka Castle and join members of the Toyonaka Shosenji Dojo in a trip to Tanabe to participate in the International Aikido Federation World Congress. This included attending a demonstration at the Kumano Shrine and a class by Doshu Sensei the following day. I also made a quick trip to Sendai where I caught up with Nagayama Sensei for some fairly intense jodo training. Here's a photo of me posing next to the statue of the Aikido Founder on the waterfront at Tanabe.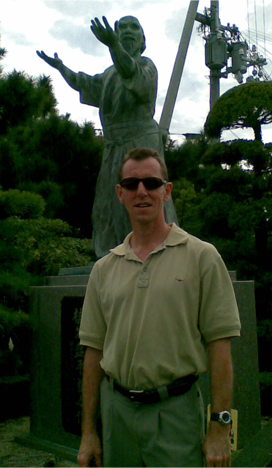 David Brown for November
Oct 8, 2008 by Dave
David Brown 6 Dan from Melbourne will take the opportunity to visit his new grandson and do some aikido with us on the November 29/30 weekend. Training will be on the Saturday afternoon and Sunday morning, I'll organise and post the details when I'm back in a couple of weeks. Oh yeah, congratulations Dave, Anita and the whole family on the new bub.
Raincheck for Tamayuki
Oct 5, 2008 by Dave
You can unmark your diaries for the Shimamoto Sensei visit next month. Due to circumstances beyond our control he has had to postpone the trip. At this stage it looks like early February will be a definite goer. I am still working on having something for that last weekend in November and will post details when and if I have something.
Tamayuki Unplugged
Sept 30, 2008 by Dave
As promised we will be hosting an aikido seminar on the weekend of 29/30 November. This will coincide with slightly belated and modest celebrations for the first anniversary of the dojo. Guest instructor will be Shimamoto Tamayuki Sensei 5 Dan from the Toyonaka Shosenji Dojo in Osaka. As many people will be aware, Sensei is a former live in student at the Aikikai Honbu Dojo and an outstanding instructor in his own right. At this stage I would envisage training on the Saturday afternoon and Sunday morning. Please mark your diaries and I'll post further details when arrangements are fully confirmed.
No Junior's Class on 14 and 21 October
Sept 19, 2008 by Dave
I will be overseas from 8 October until 25 October. As a result there will be no Tuesday Aikido Junior's Class for 2 weeks (14 & 21 October). Adult classes on Thursday and Sunday will continue as normal in my absence.
August Update
Aug 26, 2008 by Dave
I've been remiss in not updating the site over the last month or so. First of all a few people have been successful with gradings. Firstly, Georgina Sexton was awarded 3 kyu in iaido at the QKR grading on 29 June. On 13 July Tim Hanlon completed his 5 kyu grading in aikido, and then it was the juniors' turn on 27 July with Flynn Jullyan, Angus Ramsay, and Jack Moore powering their way to 10 kyu. Congratulations to you all.

On another note, the dojo's first anniversary is approaching. To celebrate, I'm presently in the process of organising a special guest instructor for a weekend seminar late November or early December. Watch this space for details.
Nagayama Sensei Visit Washup
June 29, 2008 by Dave
I think I'm starting to recover from the visit from Nagayama Sensei last week. I went down and attended the Canberra leg of Sensei's tour before accompanying him back here with Tony Pickering from Melbourne. Thank you to Damon and Kim Schearer and everyone else in Canberra for their hospitality.

As anticipated, the visit proved to be a great opportunity for people to get to know Sensei and receive some personal attention from him. This time Sensei concentrated on the small details in iaido and jodo that contribute to overall performance such correct utilisation of the fingers and wrist during kirioroshi and nukitsuke in iai and gripping the jo and twisting the feet when performing hikiotoshi in jodo.

It was pleasing to see Steve Dodson from Noosa and Jason Lloyd from Toowoomba travel down to join the training. Thanks also to the Shubukai Dojo on the Gold Coast for hosting Sensei's visit for iaido last Wednesday night and Kenshinkai at Mt Gravatt on Thursday where Sensei joined kendo keiko.
Get Well Soon Ronin
June 29, 2008 by Dave
Last reports still had the Ronin laid up in the RBH following skin grafts to repair damage to his knee after dropping his motorbike just prior to the visit from Sensei. Organising to have the week off tempted fate, it would seem. Hopefully he will be back in the dojo soon and will give up the bike in favour of his other sedate hobby – hang gliding.
Wynnum Herald Article
June 10, 2008 by Dave
We scored an article in the Wynnum Herald this week. For those who missed out on the paper edition you can check it out here.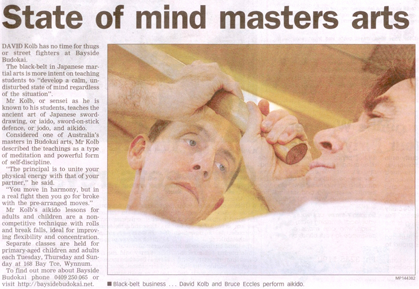 Regular Schedule Changes
June 10, 2008 by Dave
Please note the changes to the class schedule due to Nagayama Sensei's visit next week. There will be no training next Sunday 15 June (iai & aikido) and no aikido class on Thursday evening 19 June. However, check out the schedule below for additional day time classes during Sensei's visit.
Nagayama Sensei Visit
May 17, 2008 by Dave
We are fortunate to host a visit from Nagayama Sensei next month. Sensei holds the grades of jodo 7 Dan, iaido 7 Dan and kendo 6 Dan is is the Jodo Techical Advisor for the Australian Kendo Renmei. He is pictured here (on the right) teaching at the recent national seminar on the Gold Coast. Sensei will arrive on Tuesday June 17 after leading training seminars in Melbourne and Canberra and depart on Saturday June 21. Please note there will be some changes to our regular schedule during this time. The Tuesday night jodo class will be changed to iaido and the Thursday night aikido class will be cancelled. Sensei will be teaching from 9-11.30am and 1.30 to 3.30pm on June 18 & 19 and from 9-11.30 am on June 20 at our dojo. These day time classes will be on an informal basis and will enable one on one training with Sensei in either jodo or iaido. This is a rare opportunity and should not be missed.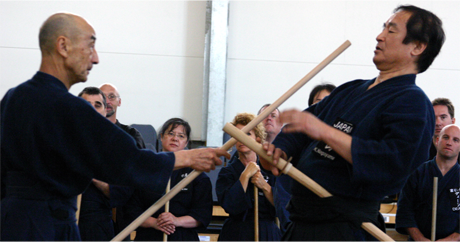 Canberra Seminar
May 6, 2008 by Dave
During the Anzac Day weekend Naoko, Emiko and I went down to Canberra. The girls spent a fair bit of time shopping whilst I went training with the good people from the Kuroyama Kai and Canberra Iaido and Jodo Group. There was a good role up of about 18 people for the seminar and great to see the interest being shown. Thanks heaps to Damon and John for inviting me down there and also to Sue for looking after things on the bayside whilst I was gone. Here's a photo of us and the autumn leaves near the old Parliament House.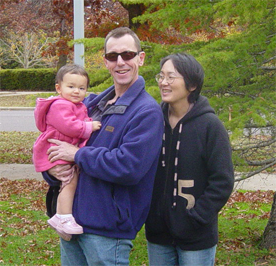 Easter Training
Mar 13, 2008 by Dave
Classes will continue as per normal over the Easter weekend from 21 to 24 March. Hope to see you then.
Singapore Shinjukai 20th Anniversary
Mar 13, 2008 by Dave
I've just got back from Singapore where I attended the 20th Anniversary Celebrations for Aikido Shinjukai 7 to 9 March. It was a real privilege to be part of such a well organised event and mix with aikidoists from all over the world. Foreign guests came from a diverse range of countries including Russia, China, Sri Lanka, Vietnam and a host of others. The highlight for me was a training seminar by leading teachers from the Asia Pacific area and Japan. The Japanese teachers included Tsuboi and Kubota Sensei who have previously visited Brisbane as well as Shimamoto Sensei, a close friend of our club. I'm pictured here catching up with Yano Sensei, Shimamoto Shihan and Takahashi san from Shosenji Dojo after training at the Shinjukai Headquarters. The seminar was headlined by the remarkable Hiroshi Tada Shihan 9 Dan, who certainly showed no sign of his 78 years. I'd like to express my thanks to Phillip Lee Sensei and everyone in Singapore for their hospitality and also to the Ronin and Sue who kept things going here in my absence.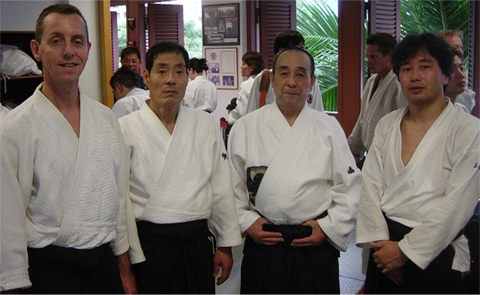 Iaido and Jodo Seminar Photos
Feb 11, 2008 by Dave
Photos taken by Sue Reilly at the Iaido and Jodo Seminar and Championships can be located here. Also at the bottom of the page you'll notice a PDF of our article in the Gold Coast Bulletin, it should be apparent that press interviews are not my forte. Anyway, my advice is to bookmark the new site and keep up to date with plans for next year in Canberra.
Goodbye Gotaro
Feb 5, 2008 by Dave
We bid farewell to Gotaro Kitayama and his parents who have decided to move back to Japan. Over the past few years Gotaro has become somewhat of a legend in Brisbane aikido circles and his boundless enthusiasm will be missed. Apart from aikido, Gotaro's other great passions are food (preferably Japanese) and keeping things clean, especially cars. Gotaro and his family first moved from Japan to Adelaide then Canberra where water restrictions prevented them from washing their cars, this prompted them to move to Brisbane and bring about the onset of prolonged drought here. It's probably no coincidence that the heavens have opened no sooner than they bought their tickets to return to Japan. Forget El Nino, it's the Kitayama weather pattern at work!
Gotaro first started aikido down south, and in spite of those dubious beginnings he soon became a mainstay at the Brisbane Aiki Kai, with the picture of Janiv Sensei coming down from his bedroom wall along the way. Anyhow I'd like to say thanks to Gotaro for all his help and support over the past years and wish him and his family all the best back in their native Kansai. Take care and hopefully we'll meet up on the mat sometime soon.
Congratulations
Feb 2, 2008 by Dave
The good news for me personally is that the Iaido and Jodo Seminar and Championships held on the Gold Coast last week are now over and the stress is gone for another seven years. More details on the week's events will follow but everyone seemed to have had a good time. Special congratulations to Sue Reilly, Bruce Eccles, and Lynford Rosos who were graded to 2 Dan in iaido. More congratulations to Sue and Lynford who were also graded to 1 Dan in jodo, and not to forget Georgina Sexton who powered her way to 3 Kyu in jodo.
Dojo Closure
Jan 14, 2008 by Dave
Just a reminder that due to the AKR Iaido and Jodo Seminar on the Gold Coast, there will be no classes from Sunday 20 January to Sunday 27 January inclusive. Classes back to normal the following week. This year there are 6 top Sensei from Japan coming out. Details are available on the links page. This is a great opportunity to see some top level iai and jo, so come down and check it out. On another note, congratulations to the Ronin who passed his 3 Dan aikido grading at the Aiki Kai Australia Summer School. Word has it that his uke, the mediocre cobbler got a right pounding in the process. Not before time.