End of Year Schedule and All of That
Dec 7, 2009 by Dave
We obviously made it back from Japan in one piece. Emiko had some quality time with her grandparents and I ended up getting some quality practice as well. I'm working on an account of the trip which I'll post as soon as I get organised.
We have also come to the end of another year, my deepest appreciation for everyone's efforts throughout 2009. Hopefully 2010 will be bigger and better. Our last class for 2009 will be on Tuesday 22 December and we will be back in action on Sunday 3 January.
Finally, due to the QKR Seminar and Grading in Toowoomba next weekend (12/13 December), there will be no iaido class on Sunday morning with aikido commencing at 0800 instead.
Changes to Training Schedule
Oct 29, 2009 by Dave
As mentioned below. there are some temporary changes coming up to the training schedule. There will be no Tuesday evening junior aikido or jodo classes on November 10 and 17. Also there will be no 5.30 pm jodo class on Friday 13 and 20 November. The full training schedule will be back to normal as of 23 November.
San Dan Rodent
Oct 29, 2009 by Dave
Congratulations are in order for Damon Schearer, travelling companion, Ipswich refugee, and aikido asylum seeker who nailed his third dan aikido grading at the recent AKI gasshuku in Sydney. Well done!
Home and Away
Oct 29, 2009 by Dave
I've just made it back from a flying visit to Singapore where I managed to endure lost luggage and a cancelled return flight to take in a weekend seminar with Shimamoto Sensei hosted by Aikido Shinju-Kai from October 24 to 26. I was joined by Damon Schearer from Canberra who took in the seminar before embarking on a business trip.
In spite of being hampered by a shoulder injury, Sensei led some inspired training. In particular, I took heaps away from a session aimed at instructors on the Sunday morning. Sensei was accompanied by Mama San and our friend Itamar from Shosenji who endured the tropical heat to provide expert ukemi and translation for Sensei.
I'd like to thank Philip Lee Sensei and the good people from Shinju-Kai for their generous hospitality and allowing us to share their beautiful dojo.
This was actually the first stage of some overseas training for me. Next month Naoko, Emiko and I are off to Japan for a couple of weeks. The girls are going to play in Hokkaido whilst I head to Tokyo and Osaka for a spot of iaido and aikido training. My absence will lead to a few temporary changes to the training schedule (details above).
September Gradings
Sept 29, 2009 by Dave
Belated congratulations to those who were graded this month. On 6 September Tim Hanlon powered his way to 3 kyu aikido and the aikido juniors fronted up for their test on 15 September. With the help of the celtic guest grading assistant, the gang all got through, great work all around. Flynn Jullyan was awarded 8 kyu, Jae Rundle, Roberto and Annika Quesada 9 kyu, with Griffin and Cooper Jullyan along with Oliver Sutton making it to 10 kyu.
Shimamoto Shihan Seminar Report
Aug 15, 2009 by Dave
As promised I have finally gotten around to writing a more detailed report on Shimamoto Sensei's visit last month. It is included on the 'Articles' page and can be accessed here.
Iaido Photos by Sue
July 28, 2009 by Dave
Sue Reilly has posted some of her photos of iaido action at Bayside Budokai on picasa. You can check them out here.
Shimamoto Shihan Seminar
July 12, 2009 by Dave
On behalf of Bayside Budokai, I would like to extend thanks to Shimamoto Sensei and all the attendees for a successful and enjoyable seminar last weekend. I'll post a more detailed report when I get a chance, but briefly the planned events all went ahead without a hitch. Sensei led some inspired training on the Friday evening, all day Saturday, and Sunday morning. The juniors on Tuesday evening were also given an unforgettable special class. One of the most pleasing aspects of the weekend was the participation by members of a variety of backgrounds, many travelling long distances to attend. Our special thanks to those from the Newcastle Aiki Kai, AKI Australia (Sydney, Canberra, Noosa), the Shosenji Cop, and also to our friends from Yuishinkai for their support and use of their mats.
Sue Reilly took heaps of great photos over the weekend. Here's a few of the action.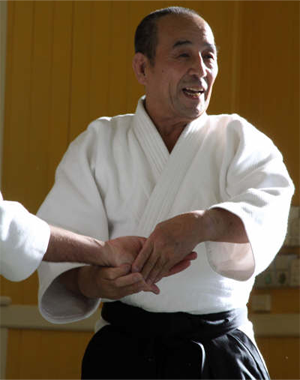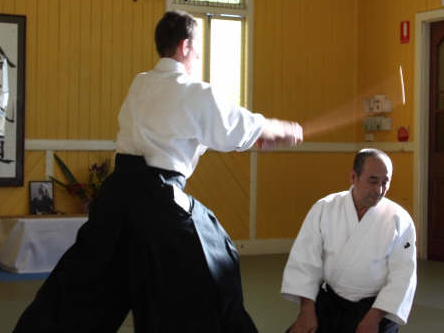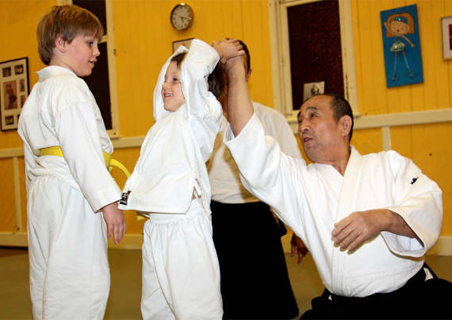 Shimamoto Shihan Seminar
June 25, 2009 by Dave
The momentum is building for the seminar with Shimamoto Shihan in a couple of weeks with attendees coming from far and near. To accommodate the seminar there will be no iaido or jodo training in Brisbane on Friday 3 July and no iaido practice on Sunday 5 July. As Sensei will still be around on Tuesday 7 July there might also be a change to the Tuesday evening schedule. We also anticipate having our little welcome party for Sensei and Mama san at the dojo on the Saturday evening.
Nagayama Sensei Visit and Aftermath
June 25,, 2009 by Dave
The class schedule is momentarily back to normal following the visit by Nagayama Sensei. Sue Reilly and I both managed to make it to Canberra over the Queens Birthday long weekend for Sensei's seminar which was attended AKR members from Victoria and NSW. We then jetted north to escape the cold and Sensei led classes at our dojo and also made a visit to the Tengenkai Dojo at Noosa. Special thanks to Steve Dodson and the gang up there for their hospitality. Tuesday and Thursday evening classes at Wynnum were well attended and as promised daytime budo junkies all got a chance to get some close scrutiny and advice from Sensei. Georgie and Thelma even got a crash course in the jodo Midare Dome and Ranai sets. All they have to do now is learn the other kata leading up to them.
No sooner was the visit over than we had the bi annual QKR seminar. This included iai gradings on Sunday 21 June. Congratulations to Bayside Budokai members Jeff Harris, Scott Reading, Ashley Weissensee and Chris Howells who were graded to 3 kyu. All of the local clubs were represented by grading candidates with Kohokai and Tengenkai people showing great form. A special acknowledgement also to Steve Dodson whose experience was reflected in a polished performance in his shodan exam.
Pictured below are a couple of shots from Sue of the action involving Nagayama Sensei at our dojo.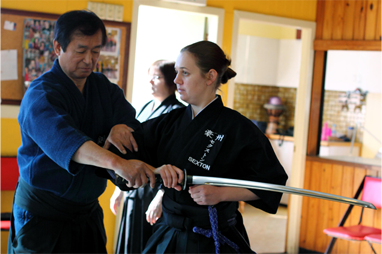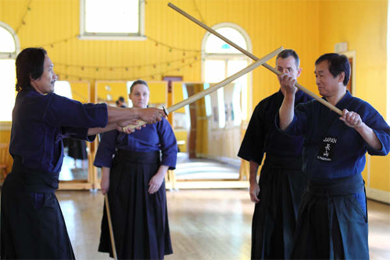 Weekend Seminar with Shimamoto Sensei
May 26, 2009 by Dave
Plans are on track for the weekend aikido seminar with Shimamoto Sensei in July. We will be hosting keiko on Friday evening, Saturday morning and afternoon, and Sunday morning. Full details can be found here.
Changes to Class Schedule
May 26, 2009 by Dave
Please note that there are some changes to our regular schedule to accommodate the visit by Nagayama Sensei early next month. The juniors aikido class will be from 5.00 to 6.00 pm on 9 June and the aikido class on Thursday 10 June will be replaced with iaido.
Nagayama Sensei Visit Schedule
May 6, 2009 by Dave
As mentioned previously, we will be hosting a visit from Nagayama Sensei, the AKR Jodo Technical Advisor. Sensei is 7 Dan Kyoshi in both iaido and jodo and also 7 Dan in kendo. This is a rare opportunity to train with someone of this calibre.
He'll be with us from June 9 to June 13. This is immediately after the Queen's Birthday long weekend. Most of the classes will be at Bayside Budokai apart from an overnight visit to Noosa Tengenkai on Wednesday.
Please find the class schedule here.
The daytime classes should be small enough to allow for one on one attention with Sensei. We will cater for both iaido and jodo depending on who can make it.
Arrivals and Visitors
May 6, 2009 by Dave
We have received word from Tojinkai Headquarters in Melbourne that the Pickering baby has arrived! Congratulations to Tony and Andrea on the birth of their daughter, Sabrina Andrea. It is great to see more people joining the ranks of the sleep deprived.
Speaking of sleep deprived, fatigue levels in our household have gone up a notch with the addition of Sachi, a four legged bundle of trouble pictured below.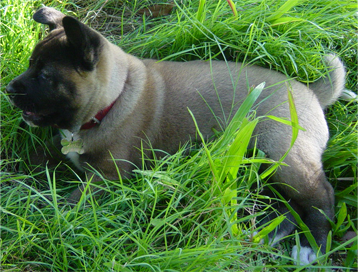 Also, I'd like to mention a visit to training last Friday night from Mr Shinichi Okamoto. Mr Okamoto practises jodo and iaido at the Hokkaido Jingu Dojo in Sapporo and comes to Queensland each year on business. This was his second visit to our club and it was great to see him again.
Upcoming Events
Apr 23, 2009 by Dave
Winter promises to be warm this year as we welcome a couple of special visitors over the next few months. Firstly Nagayama Sensei, the national technical advisor for jodo will be conducting an east coast tour in early June. This will consist of visits to Melbourne, Hobart, Canberra, and Brisbane. He will conduct a seminar in Canberra over the Queens Birthday long weekend and then head up here. He'll be in and around Brisbane from 9 to 13 June. Similar to last year this will involve relatively informal day time training at Bayside Budokai.
On the aikido front we are expecting Shimamoto Sensei in early July. This will include a weekend seminar at Bayside Budokai on 4/5 July. For those that came in late, Shimamoto Shihan 7 dan is the head of the Aikikai Toyonaka Shosenji Dojo in Osaka, and a fantastic person to boot.
I'll post more detail on each event as it becomes available.
Happy Easter
Apr 13, 2009 by Dave
The regulars will be aware that training continued as normal over the Easter break but Happy Easter wishes to everyone just the same. Personally, I skipped the chocolate and had an aikido feast instead, heading down to Canberra for the AKI Australia Easter Gasshuku. I managed to get in two great days of training before heading back to Wynnum for the normal Sunday session. I'd like to thank Steve Seymour for his invitation and all the AKI people for putting on such a fantastic event. The classes I attended with Seino Sensei were full on and everyone was great to train with. Naturally, I also got to catch up for a few old friends, thanks again to Rodent for putting me up. Also congratulations to former Brisbane resident and sometime Bayside visitor, Kim Walker who has seemingly turned away from the dark side to put on a pretty impressive nidan grading.
Dojo Photos On Aikiweb
Mar 23, 2009 by Dave
Thanks to Sue our dojo photos are currently featured on the front page at Aikiweb.com.
These images will probably get replaced when new ones come in and will then be found here: Photo 1 Photo 2 Photo 3
Thanks also to the unnamed uke in the pictures, I suppose the obvious lesson is that when you come and visit the Bayside the whole world is going to know about it.
2009 National Iaido & Jodo Seminar
Feb 01, 2009 by Dave
Classes are back to normal from this week with our return from the AKR Iaido and Jodo Seminar. Thanks to Damon and John and everyone in the ACTKR for a great event. As usual the delegation of senior teachers from Japan provided high quality instruction. I personally was given some pretty close scrutiny by Oda Sensei and now have heaps to work on to improve my iai.
The Queensland group did not achieve success of any note on the competition front but all acquitted themselves well in grading examinations. Congratulations to Bayside Budokai members, Sue Reilly and Ronin who passed the 2 Dan test in jodo. Also Georgina Sexton who was graded to 1 kyu in jodo and 2 kyu in iaido. Other QKR members also did well with Tom Johnson being awarded 2 Dan in jodo and Jason Lloyd 2 Dan in iaido.
Locally, we can now look forward to a proposed east coast tour by Nagayama Sensei which will include a visit to Brisbane scheduled for early June.
Pictured below is Ronin looking the goods during his match in the International Goodwill Iaido Competition.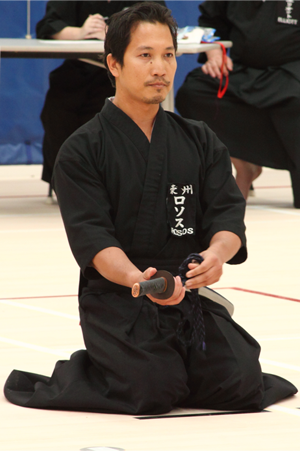 Farewell Chobi
Sept 30, 2008 by Dave
The major downside during the week away was the phone call from the kennel last Thursday morning saying that our beautiful old girl Chobi had died suddenly. After coming home it is still hard to believe she has gone after almost 12 great years together.
Here's a shot of Naoko and Chobi taken a few years ago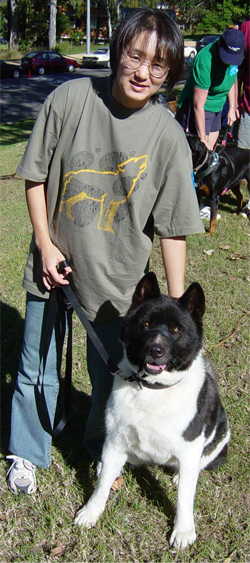 Happy New Year
Jan 5, 2009 by Dave
Happy New Year to everyone! Classes are now in full swing and being a new year it is a great time to start something new or for some of us, get back into training.
There's a couple of things on the horizon, you will see below that Bayside Budokai will now be offering jodo and iaido classes at Newstead on Friday evenings. This class will be incorporated into our monthly fee structure so anyone paying the monthly fee can join in at no extra cost.
On the subject of fees, the God of Insurance is demanding his yearly tribute. In other words yearly membership fees are due.
Also, many of us will be heading to Canberra later this month for the national iaido and jodo seminar. This means that there will be no classes from January 18 to January 25.
Jodo and Iaido Classes at Newstead
Jan 5, 2009 by Dave
Effective from this month Bayside Budokai will be providing jodo and iaido classes at Newstead on Friday evenings.
Those in the know will realise that these classes have been going for a number of years at the Brisbane Aikikai Dojo. The story is that the Aikikai has determined that they no longer wish to directly provide jodo or iaido training meaning that Bayside Budokai will now actually be responsible for the classes.
The times are 5.30pm to 6.30pm for jodo and 6.30pm to 7.30pm for iaido. Venue is Brisbane Aikikai Dojo 95 Commercial Road Newstead (cnr with Harcourt Street).
The times and venue remain the same. The only real difference is that these classes will be incorporated into our normal fee structure. That is $10 casual or $60 per month, all inclusive.
Everyone is welcome and I hope to see you there.