Christmas Break and Thanks for 2011
Dec 16, 2011 by Dave
2011 is quickly drawing to a close and I would like to thank everyone for their support this year. The last class for 2011 will be on Thursday 22 December and we will resume in the new year on Tuesday 3 January.
Before closing off I would like to congratulate Jae Rundle for being graded to junior 5 kyu in aikido on 6 December and also Shyarma Wrightson for his grading to 3 kyu in iaido at the QKR Seminar in Toowoomba last weekend. I look forward to seeing everyone back full of beans in 2012.
Back to the Iaido Drawing Board
Nov 22, 2011 by Dave
Just returned from an week long iaido training tour in Japan which included another crack at 6 dan. I linked up with the group from WA headed by Ramon Lawrence Sensei, and under the guidance of Oda Sensei attended a weekend seminar in Izu with the Bukodosokai, two days in Tokyo with Yoshimura Sensei, and the three day Dojo Renmei seminar in Toyoda. This was in the lead up to the iaido grading in Tokyo on 19 November. This time the pass rate was about 20%, unfortunately I was in the remaining 80% with a glitch in my initial nukitsuke and a sageo malfunction putting paid to what chance I did have. On the bright side, I got some intensive training and picked up heaps, all the better for my next go. Thank-you all in Japan and here for supporting me.
Away Again: Class Changes
Nov 8, 2011 by Dave
I'm away again for ten days from Thursday 10 November. This will mean that the junior aikido and iaido/jodo class on Tuesday 15 November is cancelled. The Friday sessions at Newstead will be on a free practice basis. Thursdays and Sundays at Wynnum will continue unabated under the inspired instruction of the now married Ronin, Sue, and Gotaro.
Change to Schedule: Iai Intensive Sunday 30 October
Oct 19, 2011 by Dave
There will be a change to the schedule on Sunday 30 October. Essentially class times for iaido and aikido will be reversed to allow for an extended iaido session.
For that Sunday only, aikido will commence at 08.00am. Iaido training will start at 09.30am and go through until 12.30pm. Focus will be on ZenKenRen and grading requirements.
The standard class fees will apply.
Shimamoto Shihan in Holland
Oct 19, 2011 by Dave
I've received quite a few positive reports about Shimamoto Sensei's recent seminar in Holland. Apparently he was in top form. Ze'ev from Israel was kind enough to post some video which can be viewed here. NB The vision is great, but I'm not sure about the soundtrack or the cat in the umpire's chair.
Dai Ken Kyo Training on 18 September
Oct 19, 2011 by Dave
Yamamoto Sensei kindly sent me a photograph taken following keiko at Dai Ken Kyo in Osaka on Sunday 18 September. Pictured below (L-R) is Obayashi Sensei, Ikeda Sensei (8Dan Hanshi), yours truly, and Yamamoto Sensei.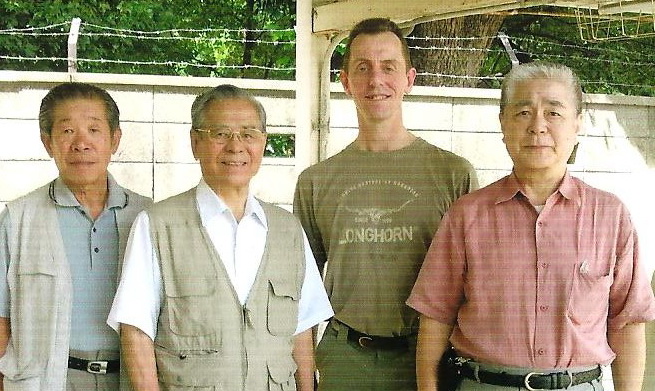 Andrew Williamson Sensei at Brisbane Aikikai
Oct 2, 2011 by Dave
As a consequence of the seminar by Andrew Williamson Sensei at the Brisbane Aikikai next weekend (8/9 Oct), there will be no Sunday morning aikido class at Bayside. Iaido will be on as normal at 8.00 am.
Home Again
Oct 2, 2011 by Dave
We made it back from our recent trip to Japan. Big thanks to Sue, Ronin and Gotaro for minding the shop.
The majority of the time was spent with Emi getting some face time with the grandparents but I still managed some training time.
We stopped off for the weekend in Osaka. On the Saturday we visited Shosenji and caught up with Shimamoto Shihan and family. As many would be aware, Sensei is recovering from recent surgery but is back taking regular classes. He is also planning to go to Europe this month. As usual, we received great hospitality and Sensei put on an inspirational class. On the Sunday morning we met Obayashi Sensei and I joined the Dai Ken Kyo iaido training at Tennoji led by Ikeda Sensei who continues to be full of vigour. In spite of the limited time, I was given a fair bit to work on.
Most of the following week was spent kicking back in Hokkaido, but on Saturday afternoon I met Mr Okamoto at the Hokkaido Jingu Dojo for an invaluable iaido session with him and Kato Sensei. It was an interesting experience to practise somewhere completely new and pick up some invaluable advice.
Gradings
Oct 2, 2011 by Dave
Congratulations to everyone who passed recent aikido grading tests.
For the seniors, Rob Fleischer and Colin Tibbetts 3 kyu and Jeff Nesterowich 5 kyu on 11 September.
For the juniors, Christiana Quesada 9 kyu and Nerada and Sundara Wrightson 8 kyu on 6 September.
Cooper Jullyan 7 kyu, Oliver Sutton 6 kyu, Annika and Roberto Quesada 5 kyu, and Flynn Jullyan 4 kyu on 13 September. Well done to you all.
Class Schedule Changes
Sept 13, 2011 by Dave
We are away for a week or so from Friday so there are a few changes to the schedule. There will be no Friday class at Newstead on 16 and 23 September and no junior aikido or iaido on Tuesday 20 September.
The remaining Thursday and Sunday classes will remain as normal with Sue, Gotaro and the Ronin at the helm.
Upcoming Events
Sept 13, 2011 by Dave
We are invited to a weekend seminar at the Brisbane Aiki-kai on October 8/9 by Andrew Williamson 6 dan from Christchurch NZ. I realise that attending any event conducted by a kiwi in the middle of the Rugby World Cup is asking for trouble, but this should prove to be a great weekend. Also we are aiming to have an iaido intensive on Sunday 30 October. Both events will probably mean slight changes to programming, so stay tuned.
Enter the Dojo
Sept 13, 2011 by Dave
I've recently been introduced to the devastating martial art of Ameri-Do-Te and interested in negotiating with Master Ken to conduct a seminar down this way. A rape prevention course would be special. Check his stuff out for yourself:
http://www.youtube.com/watch?v=3CGMWlXosp4
http://www.youtube.com/user/EnterTheDojoShow#p/f/1/Sr0-ogsa4z4
http://www.youtube.com/user/EnterTheDojoShow#p/f/0/nsxNC0vcKZE
Brisbane Aikikai Independence Day
August 23, 2011 by Dave
Last Sunday (21 August) we headed up to the city to join a seminar hosted by the Brisbane Aikikai. Classes were taken by resident senior instructors Mark Pearcy, Alan Michener, and Chris Seto-Payne. It was great to catch up with old friends and enjoy some high quality training. Photos can be accessed through the new look Brisbane Aikikai website. Big thanks to the Doctor for the invitation and the opportunity to be part of a new era of mutual cooperation.
Nagayama and Ohara Sensei Visit
July 3, 2011 by Dave
We were fortunate to have Nagayama and Ohara Sensei pay us a visit last month as part of their annual east coast tour. They were with us in the week leading up to the Queens Birthday weekend before making their way to Canberra and then dodging volcanic ash clouds to visit Victoria and Tassie. This year the majority of the jodo and iaido sessions were held at down in Scorpion land with side visits to the Bayside and the Gold Coast. Thank you,Tony and Vicki Kavanagh for hosting Sensei this time around.
Introductory Aikido Course
May 2, 2011 by Dave
Sue kindly knocked up a poster for our introductory aikido course commencing Thursday 12 May. You can check it out here.
Coaching Accreditation
May 2, 2011 by Dave
Bayside Budokai is an associate member school of the Australian Jujitsu Federation which is recognised by the Australian Sports Commission to accredit coaches in jujutsu and related arts, including aikido. As a result of our involvement with the Australian Jujitsu Federation, I was recently fortunate to complete the necessary training to qualify as a Level 2 Coach in the National Coaching Accreditation Scheme (NCAS). The support of Roger Quick, Jim Stackpoole and all the good people at the AJF is deeply appreciated.
Aikido Introductory Course
April 12, 2011 by Dave
We will be running an introductory course for new students in the art of aikido next month. This will be a great chance for anyone interested in starting aikido to get off on the right foot. The course will be run on Thursday evenings from 6.30 to 7.30pm over 6 weeks commencing 12 May at a cost of $50. For more details contact me direct.
Easter Holidays
April 12, 2011 by Dave
There will be no classes during the Easter and Anzac Day holiday period from Friday 22 through to Tuesday 26 April.
Nagayama Sensei Visit
April 12, 2011 by Dave
In spite of earthquakes, tsunami and nuclear fallout it seems that we can still expect a visit from Nagayama Sensei, AKR Technical Advisor for jodo in June. He is anticipated to be in and around Brisbane from 7 – 10 June before heading to Canberra as part of his annual east coast tour.
Horii Shihan Seminar
Mar 09, 2011 by Dave
Big thanks to Darius and the crew at the Newcastle Aiki kai for hosting the seminar with Horii Shihan at the end of February. Blake Carney made the trip as did the Rodent from Canberra. Some other Queenslanders also remained well camouflaged in true gecko style. It proved to be a great chance for Aiki kai people from a variety of backgrounds to get together and practise with a world renowned teacher. Horii Sensei certainly came up with the goods on the mat or at the party on Saturday night. Everyone should be thankful that there was no way I was going to get up and join the singing, knowing all the words to Khe Sanh is one thing, performing is another.
AKR Nationals
Mar 09, 2011 by Dave
During January, we joined a big contingent from Queensland for this year's AKR national Iaido and Jodo Seminar and Championship in Melbourne. As usual, the VKR did a great job hosting the event and the visiting teachers led by Oda and Nagayama Sensei provided excellent instruction. The Queenslanders put in a big effort in the competition and Georgie came away with some silverware for jodo. Congratulations to all those who got through their gradings on the final day. For the Baysiders, Sue Reilly, Bruce Eccles and Lynford Rosos were awarded 3 dan and Georgina Sexton 1 dan in iaido. On the jodo front, Lynford Rosos made 3 dan and Georgina completed the double with 1 dan.
Pictured below are the Queensland attendees with the exception of Philippe Calamel and also Georgie picking up the AKR Next Top Model Award (not much competition judging by the runners up.)
The Floods
Jan 19, 2011 by Dave
I'd like to thank all of our friends from Australia and overseas who have inquired about our welfare during recent flooding in Brisbane. Thankfully, it would seem that all of our members have been spared any damage or harm. However, disruption to transport and communications and a pretty heavy work schedule for me has had some impact on classes. Hopefully things will be back on track on soon, but in the meantime our best wishes and condolences go out to all those people across Queensland who have suffered through loss of life and property.
Shimamoto Shihan 8 Dan
Jan 11, 2011 by Dave
Great news out of the Hombu Dojo Kagami Biraki Ceremony last weekend, with the promotion of Shimamoto Shihan to 8 Dan. Warm congratulations to Sensei from us all at the Bayside. It looks like celebrations are in order. By the way, at this stage Sensei is scheduled to visit us again in May.
Happy New Year 2011
Jan 4, 2011 by Dave
Classes are back underway for 2011. The first item on the agenda is to congratulate those who achieved aikido gradings at the end of 2010. On 19 December 2010, Colin Tibbetts, Blake Carney and Rob Fleischer graded to 4 kyu. For the juniors, the following gradings took place: Roberto and Annika Quesada 6 kyu on 6 December, Nerada and Sundara Wrightson 9 kyu and Cooper Jullyan and Stevie Newcastle 8 kyu on 14 December, Jae Rundle 6 kyu and Flynn Jullyan 5 kyu on 21 December. Well done everyone.
As for upcoming events, the iaido and jodo contingent will be heading to Melbourne for the AKR National Seminar starting 24 January. The only disruption will be to classes on Tuesday 25 January. Following that, the last weekend in February (26/27 February) will see the Newcastle Aikikai hosting a seminar with Horii Shihan of the Aikido Sanda Dojo. This will be a great chance to train with a former instructor of the Hombu Dojo, so a bunch of us will be making the trip.