Iaido Gradings
Dec 13, 2012 by Dave
Congratulations to Sharma Wrightson and Kim Bowman who were successful in passing their grading tests on 9 December at the QKR Seminar. Sharma was graded to 1 kyu (Sharma) and Kim to 3 kyu. Well done both of you.
Shimamoto Shihan Seminar: A Great Success
Dec 12, 2012 by Dave
Thank you to everyone, especially Shimamoto Shihan and Mama san, who contributed to our highly enjoyable seminar and anniversary celebration on the weekend of 1-2 December. All up there were just on 50 participants, this included our friends from diverse backgrounds and locations such as Noosa, Darwin, Melbourne, Canberra and Israel via Sydney.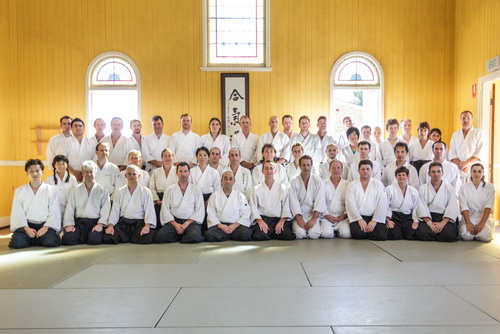 The weekend with Sensei kicked off with a lecture and introduction to zazen which proved to be highly enjoyable and informative, as well as setting the tone for the weekend of aikido. Saturday was a big day with morning and afternoon sessions where Sensei stressed the need to be strict on oneself to care for one's partner. At the conclusion of Saturday's training, we were treated to dan grading tests by Joanne Dinh and Gotaro Kitayama followed by an enjoyable dinner at Shangrila Gardens. Congratulations to Joanne and Gotaro who passed shodan and nidan respectively. Their years of hard training really came to the fore during their tests and it was great to watch.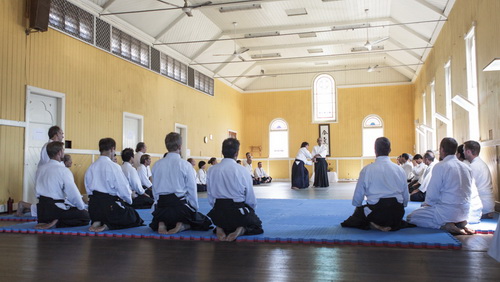 We had another full morning of practice on Sunday followed by a fairly informal celebratory demonstration. The demonstration started off with jodo and iaido by Bayside Budokai students. There was then an intermission of sorts where we were entertained with a wonderful performance of Kirtan music by our friends from the group, Omkara. We then moved on to aikido with Bayside Budokai juniors and adults, Yuishinkai Aikido by Danny James and Catherine Schnell Sensei, Brisbane Aiki-kai with Chris Seto-Payne Sensei and Bruce Eccles, and last but by no means least Shimamoto Shihan with Gotaro and Ronin serving as ukes.
Events like this don't just happen. They take a lot of work behind the scenes, commitment to attend, and the support of families. Special mention needs to be made of the assistance by Sue and Gotaro and all the members of Bayside Budokai. Naturally we are deeply appreciative of the support from Shimamoto Shihan, Mama san, and the Shosenji Dojo. Hopefully we can do it again in the not too far distant future.
Photographs courtesy of Sue Reilly Shugyo Images
Schedule Changes Shimamoto Shihan Visit and Beyond
Nov 27, 2012 by Dave
There are a few changes to regular programs due the visit by Shimamoto Shihan next weekend and events in the lead up to Christmas.
There will be no jodo/iaido at Newstead on Friday 30 November or iaido on Sunday 2 December at Wynnum.
No juniors aikido or iaido on Tuesday 4 December.
No iaido at Wynnum on Sunday 9 December due to the QKR Seminar.
Last class for 2012 will be on Sunday 23 December, training will resume on Thursday 3 January 2013.
Another Chapter in the Iaido 6 Dan Story
Nov 22, 2012 by Dave
Bayside observers will be aware of my ongoing attempts at 6 Dan in Iaido. I had another go on 17 November in Tokyo and missed out again. Thankfully this time it wasn't a complete fiasco like last year, but I'd have to admit that nerves did get the better of me. From the official figures, 233 people attempted the test with 46 passing (19.7%). There were no foreigners included in either the 6 or 7 dan lists of successful candidates. The good news is that there were great results for the people from Osaka, that included Dai Ken Kyo members Kawaguchi san (6 dan) and Shokoji Sensei (7 dan). It was also great to see Shoji Sensei from Miyagi pass 7 dan. Once again, I'd like to express my appreciation the fantastic support from my teachers, family and friends.
Put Away the Guitar Ash
Nov 7, 2012 by Dave
It looks like the guitar and the iaito will be stuck in the corner for a while. Congratulations to Rock Legend Ash Geary and Emma who will have their hands full after the birth of a baby girl, Arden Ashley Geary on 5 November.
Out of Town
Nov 4, 2012 by Dave
I'm out of town from 10 to 18 November. No prizes for guessing where I'm going. Anyway, juniors aikido and iaido/jodo are cancelled for Tuesday 13 November. Other classes will continue as programmed with the assistance of Sue, Papa Ronin, and Go.
Upcoming Iaido and Jodo Events
Nov 4, 2012 by Dave
The next Queensland Kendo Renmei Seminar is scheduled for the weekend of 8/9 December at the Collingwod Park Sports Centre at Redbank Plains. Schedule to be confirmed but will include training and grading examinations for iai.
Also the AKR National Iaido and Jodo Seminar and Championships are looming. It will be held in Hobart from 21 to 27 January 2013 and led by the AKR Technical Advisors, Oda and Nagayama Sensei. Full details are available on the AKR website. Please note registrations close 21/12/12.
Gradings
Nov 4, 2012 by Dave
We have had some more aikido gradings recently. Congratulations to Rob Fleischer and Colin Tibbetts who were graded to 2 kyu on 11 October. It was the juniors turn on 16 October, a really big effort by all involved with the following grades being awarded Flynn Jullyan 3 kyu, Roberto Quesada, Annika Quesada, and Oliver Sutton 4 kyu, Sundara and Nerada Wrightson 7 kyu and Nakula Wrightson 9 kyu.
Shimamoto Shihan on the Bayside
Oct 14, 2012 by Dave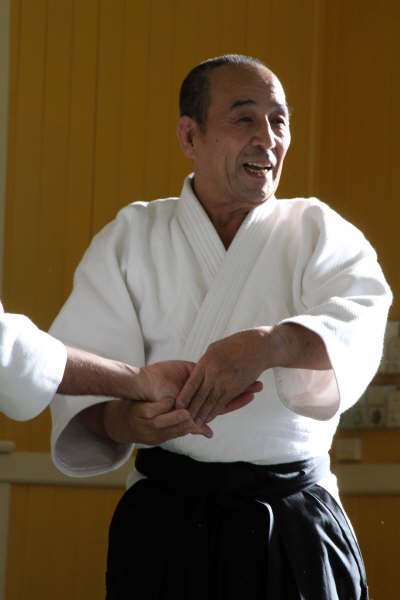 Bayside Budokai is pleased to announce a weekend aikido seminar with Shimamoto Shihan from the Toyonaka Shosenji Dojo in Japan. Shimamoto Sensei (8 Dan) is one of the most renowned Aiki-kai teachers in Western Japan and was a student of the late Osawa Sensei, former Hombu Dojo-cho. In daily life, Sensei is a Buddhist priest and master of the Shosenji Temple. His graceful style of aikido reflects a unique integration of aikido and the principles of Zen.
This is a rare experience to train under a master level teacher and should not be missed.

Details:
Friday 30 November
6.30pm- 7.30pm (Lecture: Aikido and Zen/Introduction to Zazen)
Saturday 1 December
9.00am- 12.00pm
1.00pm- 3.30pm
Sunday 2 December
9.00am- 12.00pm
1.00pm- 2.00pm (Demonstration)
Venue: Bayside Budokai Cnr Bay Terrace & Clara Street, Wynnum
Cost: $50 per class (Sat & Sun) $120 full weekend
Please join us for dinner at additional cost planned for Saturday night to celebrate the 5th birthday of the Bayside Budokai
Full timetable and additional information is available here
Registration form is available here
Additional Information: Dave Kolb 0409 250065 dkolb@bigpond.net.au
Andrew Williamson Seminar 13/14 October
Sept 19, 2012 by Dave
The Brisbane Aiki kai will be hosting a weekend seminar with Andrew Williamson Sensei 6 Dan from Christchurch on the weekend of 13/ 14 October. As a result there won't be regular aikido on the Bayside on Sunday 14 October. See you at Newstead instead. We Baysiders will be the ones that haven't gone over to support the All Blacks.
Japan and Shosenji Dojo 50th Anniversary Celebration
Sept 19, 2012 by Dave
We are back from a successful trip to Japan and all classes are back running as per the schedule. I had a pretty full week in Osaka doing both iaido and aikido and will put together a more detailed report in due course. The Australian crew consisted of me, Naoko and Emi, Joanne Dinh, Damon Schearer (ex officio Baysider), and the Ronin, who made a snappy weekend trip. The celebration last Sunday went very well with several hundred, including about 80 overseas guests, showing up for the seminar with Doshu and the celebration party. I really appreciate the brilliant work by Ronin and Damon in taking ukemi during our demonstration. Deepest thanks also to Shimamoto Shihan and family and all the wonderful people at Shosenji for their hospitality during the week and for putting on such a great event. Here's a picture of Damon and me doing some sightseeing in Kyoto outside the Butokuden, which coincidentally is just around the corner from Tozando.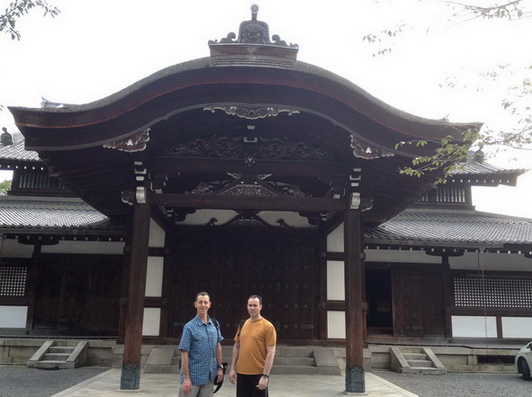 Dance with Heaven and Earth
Aug 22, 2012 by Dave
The highly talented Anna Sanner has been working with Shimamoto Shihan for some time now on book that records many of his perspectives on aikido, Zen and life in general imparted as a part of his teaching. It is titled Dance with Heaven and Earth, Life Lessons from Zen & Aikido. The book can be ordered online here in print or electronic format. I'll be putting in a group order for the club to cut down on the shipping cost. All I can say is that it is brilliant.
Japan Trip and Schedule Changes
Aug 22, 2012 by Dave
As previously indicated, a few of us are off to Japan for the Shosenji Dojo Anniversary Celebration early next month. I will be away from 1-11 September. As a consequence there will be no junior aikido or iaido/jodo on Tuesday 4 September. Adult aikido will continue as normal on the Sunday and Thursday. Bruce will take care of iaido at Newstead on Friday.
Japan Trip and Schedule Changes
Aug 22, 2012 by Dave
We have been working our way through some aikido grading tests. Congratulations to Paul Thomas 5 kyu on 5 August and Jeff Nesterowich 4 kyu on 12 August. For the juniors, good work by Abigail Rogan Benfer and Kristianna Quesada 8 kyu on 14 August.
Gradings
July 23, 2012 by Dave
A pretty productive weekend spent at the Queensland Kendo Renmei mid year seminar. There was a big group in attendance for kendo and we were lucky to have Tsukadaira Sensei from the Gold Coast lead the iaido practice. Saturday was spent focussing on the key points for Zen Ken Ren iai and Sunday morning was more of the same with an emphasis on grading preparation. Congratulations on Baysiders who were successful in their respective grading tests. Guitar hero Ash Geary and Peter Chmielewski passed 3 kyu and Sharma Wrightson made it to 2 kyu. Good work.
QKR Seminar
July 16, 2012 by Dave
The Queensland Kendo Renmei Seminar is fast approaching next weekend (21/22 July). The venue is the Collingwood Park Sports Complex, Chalk Street, Redbank Plains. Times are 0900 to 1600 Saturday and 0900 to 1500 on Sunday with gradings after lunch. There will be no iaido at the Bayside on Sunday but aikido will be on as usual at 0930.
Lone Wolf now has Cub
July 3, 2012 by Dave
Congratulations to the Ronin and Georgie on the birth of a bouncing boy. At the time of this post no name has been decided. Daigoro has a nice ring to it.
Bayside Budokai 5th Anniversary
June 16, 2012 by Dave
Whilst nowhere near the scale of the Shosenji celebrations, Bayside Budokai will be 5 years old this year. To mark the occasion we are hoping to host a weekend seminar with Shimamoto Shihan, this is shaping for the first weekend in December (1/2 December). Please mark your diaries and stay tuned for details.
Shosenji 50th Anniversary
June 16, 2012 by Dave
A few of us will be heading to Japan in early September to attend the celebrations associated with the 50th Anniversary of the Toyonaka Shosenji Dojo. This is shaping to be a big deal with friends and students of Shimamoto Shihan from all over the world getting on board for a seminar by Doshu and a party.
What's Been Happening
June 16, 2012 by Dave
Apologies for not updating the site for some months. I could make some excuses like being flat out at work etc but it is probably better to just describe what has been happening and what is coming up.
Classes have continued as normal and I have had the opportunity to get away for some great training experiences.
During Easter, I made it down to Canberra to a seminar by Bill Gleason Sensei that was hosted by AKI Australia.
During the Labour Day long weekend I attended the seminar with Horii Shihan hosted by the Newcastle Aiki Kai.
To round off all the recent long weekends, I got frozen once again in Canberra over the Queen's Jubilee during the annual seminar hosted by the ACTKR with Nagayama and Ohara Sensei in jodo and iaido.
A big thank you to everyone that was involved in putting on those events. Also good luck to Rodent from Canberra who will be having a shot at 4 Dan in jodo in Japan in a couple of weeks.
As for events that are about to happen. The QKR will be holding its mid-year seminar on 21/22 July which will include iaido tests for a few of us. We are also due for aikido kyu tests over the next month or so.
Easter Training
Apr 01, 2012 by Dave
No class next Friday at Newstead but all other classes will be running as per usual.
Dave Brown Visit
Apr 01, 2012 by Dave
We had a highly enjoyable and challenging visit from Dave Brown last weekend. Sunday ended up being a pretty big day with quite a few guests rolling up.
Thank you Dave Sensei for teaching, Ronin for organising, and everyone who supported it.
Ronin and the Sword of No Sword
Apr 01, 2012 by Dave
Scary stuff the other Tuesday night when Ronin's long suffering iaito finally gave up the ghost. I personally don't need to see a blade snap off at the habaki, mid cut again. Especially when it's coming in my general direction. As for the Ronin, he's in the market for a new iaito that will be immune to the corrosive powers of his toxic sweat.
David Brown Visit
Mar 12, 2012 by Dave
We will be hosting a visit by David Brown Sensei 6 Dan from Melbourne at the end of the month. Classes will be held both at the Brisbane Aikikai at Newstead and down on the bayside.
Sensei will be taking the regular class on Thursday 22 March (1830-2000) and also the class on Sunday 25 March. There will be a slight change in that class in that it will be from 0900 to 1100. There's an additional surcharge to cover travel costs etc being $20 per class or $30 for both. David will also be teaching Friday evening and all day Saturday at Newstead. Please also note that there will be no jodo/iaido at Newstead on Friday 23 March as a result.
Kitaura Sensei
Feb 28, 2012 by Dave
I made it only to the mini seminar by Kitaura Sensei hosted by Brisbane Aiki Kai last Sunday 26 February. Kitaura Sensei is the son of Kitaura Shihan residing in Spain and was visiting Brisbane as part of a trip to Australia. It was a great morning's training with some interesting approaches to familiar things. Thank you Sensei and Brisbane Aiki Kai for the invitation.
Mini Grading
Feb 28, 2012 by Dave
We had a mini grading for the juniors last week. Congratulations to Isaac and Abigail Rogan Benfer for passing the test for junior 9 kyu on 21 February.
AKR Nationals
Jan 29, 2011 by Dave
I'm just back from the AKR Iaido and Jodo Seminar in Sydney. Work commitments kept me from full attendance this year but I still managed to get in some valuable training. The next major events on the iaido and jodo front will be the annual visit to the East Coast by Nagayama and Ohara Sensei, and the Queensland Kendo Renmei weekend seminar and grading, both scheduled to take place in June.
Reciprocal Training Brisbane Aiki Kai
Jan 29, 2011 by Dave
We have recently been able to conclude some arrangements to help people to maximise their aikido training opportunities at both the Brisbane Aiki Kai (Newstead) and down here at Bayside. The deal is that annual membership for both clubs is required for insurance purposes, those paying monthly membership at one (home) dojo will then be entitled to a half price rate for casual training at the other dojo.
Back in Business for 2012
Jan 5, 2012 by Dave
Hi Everyone and Happy New Year for 2012. Classes are back and running as of 3 January and we are looking forward to a great year. Kicking things off will be AKR National Iaido and Jodo Seminar in Sydney starting on 23 January. I'll be heading down there for a few days so there will likely be no class on Tuesday 24 January. Stay posted for details.