Bye Bye 2014
Dec 21, 2014 by Dave
We've had our last class for 2014. Merry Christmas and Happy New Year to all. Thank you everyone for your efforts and support over the past year. It was also our last class at our venue in Bay Terrace. Insiders will know that I am setting up a training area as part of a renovation of the homestead. There's still a bit of work to do to get things sorted, so stay tuned for details of the re commencement of classes at Wynnum in 2015. Friday night Jo/Iai will resume at Newstead as of 2 January and Bayside aikido fans will need to drop into friendly dojo around town to maintain their edge. 2015 is looking big with good things in the pipeline. Here's a pic of the crew getting together after training today. Have a great break!
End of Year Training Schedule
Nov 29, 2014 by Dave
All of a sudden the end of 2014 is upon us. On top of that, I have a number of commitments that are going to impact on our December schedule. Rather than outline what sessions are canceled it is probably easier to say which ones are a goer. Casual fees only will apply during December.
Tues 2 December (Juniors Aikido and Iaido) Note: This is the last Juniors Class for the Year
Thurs 11 December (Aikido)
Fri 12 December (Iaido @ Newstead)
Sun 14 December (Iaido and Aikido)
Sun 21 December (Iaido and Aikido) Note: Last class for 2014
No Classes 9 - 16 November
Oct 30, 2014 by Dave
Due to commitments associated with the G20 Meeting in Brisbane, there will be no classes from Sunday 9 November through to Sunday 16 November inclusive. Aiki types should think about taking the option of training at the Brisbane Aikikai that week. Sorry for any inconvenience.
No Training 15-22 September
Sept 16, 2014 by Dave
Sorry, but the G20 Finance Mininsters' Meeting takes precedence over training next week. Normal classes will resume on Tuesday 23 September. Sorry for any inconvenience.
Internal Power Workshop 24 August
Sept 16, 2014 by Dave
We had Steve Seymour and Michael Dreyer up from Sydney on Sunday 24 August to give us a basic introduction to the concepts of internal power and aikido. Here's a couple of shots of the action courtesy of Sue Reilly. Thanks Steve and Michael and also Sue for the pictures.
Okayama
Jul 16, 2014 by Dave
Courtesy of Igarashi San, here's a couple of shots from the Iaido Shinsa at Okayama on 11 July.
I'm 4th from the left.
We can still smile in spite of the result whilst checking out the kit at the Nosyudo stall.
Rob and Col Aikido 1 Kyu
Jul 14, 2014 by Dave
Good stuff by Robert Fleischer and Colin Tibbets who smashed their grading test for 1 kyu on 3 July. Here are the boys with their certificates this morning.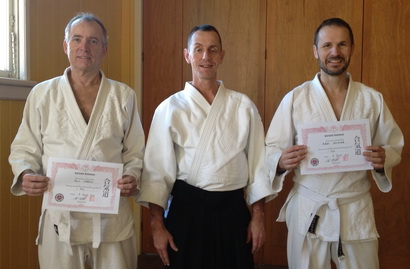 Another Iaido Grading Attempt
Jul 14, 2014 by Dave
Just back from another iaido grading attempt at Okayama, Japan on 11 July. In spite of fantastic support I was still not able to get over the line. Better luck next year! The great news is that Tsukadaira Sensei from the Gold Coast passed 7 Dan after a massive effort. This is a major boost for iaido in Queensland.
Internal Power Training 23-24 August
Jul 02, 2014 by Dave
Kim Walker from Brisbane Aikikai has organised an internal power workshop over the weekend of 23-24 August. Training will be led by Steve Seymour and Michael Dreyer Sensei from Sydney. Sessions will be from 8.30am to 12.00pm and 2.00pm to 4.30pm on 23 August at the Brisbane Aikikai (Newstead) and from 09.00am to 12.00pm on Sunday 24 August down here at the Bayside Budokai. Cost will be $50 both days, $40 Saturday only or $20 Sunday. Attendance is strongly encouraged.
QKR Seminar
Jul 02, 2014 by Dave
The mid year QKR seminar will be held at the Collingwood Park Sports Centre at Redbank Plains on the weekend 12-13 July. Training, including iaido will kick off at 9.00 am both days.
Class Changes: 4 July to 11 July
Jul 02, 2014 by Dave
With school holidays etc, there are some changes to the schedule over the next week. No iaido at Newstead this Friday 4 July or next Friday 11 July. No training at Wynnum (iai and aikido) this Sunday 6 July or Tuesday 8 July (juniors aikido and iaido). The Thursday 6.30 aikido class on 10 July will be on. No iaido on Sunday 13 July but the 9.30 aikido class will be a goer. Hope that makes sense, and sorry for any inconvenience.
Aikido Gradings
Jun 29, 2014 by Dave
We've been running through a few aikido kyu tests over the last couple of weeks. Congratulations to the successful candidates: Leonie Tibbetts 5 kyu on 15 June, Georgia Fleischer 3 kyu on 19 June, and Jeff Nesterowich 2 kyu on 29 June. For the juniors: Patrick Fleischer 10 kyu on 17 June, Kristianna Quesada 5 kyu and Annika Quesada 1 kyu on 24 June. Here's a photo of Leonie and Georgia with their certificates following sublime efforts in their grading tests.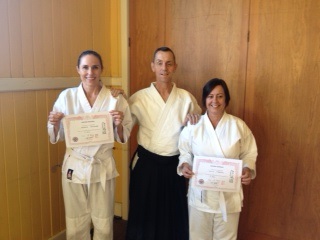 Iaido and Jodo 24 and 25 May
May 4, 2014 by Dave
Tom Johnson has organised some jodo and iaido training in the hall on the weekend of 24 and 25 May. It is basically aimed at people preparing for gradings, but any level is welcome. Essentially, training will be going from 1.00pm to 5.00pm on Saturday and 9.00am to 3.30pm on Sunday with breaks for lunch etc. Please note aikido will kick off at the earlier time slot of 8.00am on Sunday 25 May.
No Juniors Aikido or Iaido Tuesday 13 May
May 4, 2014 by Dave
I'm out of town for the week after next. No training (juniors aiki or iai) on Tuesday 13 May. Other classes will continue as normal in the capable hands of Gotaro, Buruso, and Ronin.
Takase Shihan Seminar
May 4, 2014 by Dave
Thanks again to the Brisbane Aikikai for hosting and allowing us to participate in the seminar with Takase Shihan this weekend. It was a great opportunity to get together and we all got heaps out of it.
Takase Sensei Seminar Next Weekend
Apr 27, 2014 by Dave
The Brisbane Aikikai is hosting a seminar with Takase Sensei from New Zealand next weekend. Just a reminder that there will be no aikido at Wynnum next Sunday or iaido at Newstead on Friday.
We will be doing iai at Wynnum on Sunday morning but kicking off at the earlier time of 7.30am, set your alarms.
Couples Aikido at Bayside
Apr 27, 2014 by Dave
Bit of a family thing happening at Wynnum this morning. We had the Ronin and Georgie sharing the parenting duties between fronting up for iai and aikido, regulars Colin and Leonie, whilst Rob and Georgia celebrated their anniversary by smashing each other on the mat. Here's a shot of the gang in action, sharpening their skills for the Brisbane Aikikai Seminar next weekend. On another note it's bon voyage to Sue. It would be great to say that she is heading off for some sort of musha shugyo, but sadly she won't even be taking her keiko gi on her two month shopping tour of Europe. Anyway have a great trip.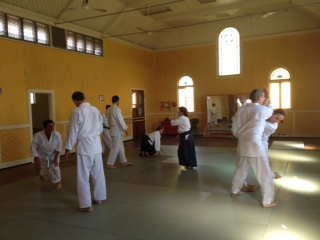 No Training: Tues 18 February
Feb 4, 2014 by Dave
I'm out of town for a few days, so no training on Tuesday 18 February (juniors aikido and iaido).
Washup from the IJSC
Feb 4, 2014 by Dave
All said and done, we had a great week at the AKR Iaido Jodo Seminar and Championship from 20 to 26 January. The contingent of Sensei led by Technical Advisors Oda Sensei (iaido) and Nagayama Sensei (jodo) were in fine form with some of the junior members of the group like Igarashi san and Yaguchi Sensei making a huge effort to lift the level of their respective groups.
Here's a snap of Igarashi san passing on some finer points to the mudansha group that included a few Baysiders. I don't know what Georgie was doing there.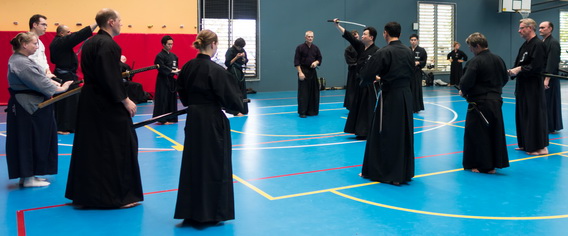 Tom Johnson, the Queensland Representative on the Iai Board did a massive job in putting things together, and to his credit everything ran like clockwork in spite of the oppressive heat on a few of the days. Good news on the grading front was that Sharma Wrightson passed shodan for iaido and our good friend Steve Dodson from Noosa nailed 3 dan. Bad news was that Sue and Bruce missed out this time on 4 dan. Lucky ducks now have an excuse for some really hard training before they challenge again.
A personal highlight for me was the attendance of Mr Andrew Hay (President) and Dr Fuji Chamberlain of The Australia Japan Society Queensland as guests for the Championship Events. Back in 1993, I received a grant from the Society that enabled me to go to Japan for the first time. During that trip I made contact with Shimamoto Shihan for aikido and Obayashi and Ikeda Sensei for iaido. It's safe to say that if it wasn't for the Society we wouldn't enjoy the close links and opportunities we enjoy today.
Here's another photo of yours truly and Dr Chamberlain.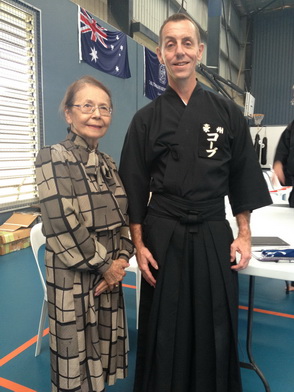 Class Changes Next Week
Jan 18, 2014 by Dave
The AKR Iaido Jodo Seminar will be held at Redbank Plains all of next week. As a result there are a few changes to our normal program. There will be no training at Wynnum on Tuesday 21 January (juniors aikido & iaido) and Sunday 26 January (iaido & aikido). Also no iaido at Newstead on Friday 24 January. Thursday evening class (aikido) will be on as normal. The seminar will be happening from 9.00am to 4.00pm each day at the Collingwodd Park Sports Complex with competitions on Saturday and gradings Sunday morning. Drop by and check it out.
Back in Business for 2014
Jan 05, 2014 by Dave
We are now back in action for 2014. Welcome to the new year and the record hot weather, this being in spite of the bay breezes down here at the seaside. Nice to see the return of Gotaro at keiko this morning. First item on the 2014 agenda will be the AKR Iaido and Jodo Seminar at scenic Redbank Plains,(no bay breezes out there). Anyway, this will involve some class changes during the week 20-26 January. Stay tuned for details.