Goodbye 2015
Dec 21, 2015 by Dave
We had our last Sunday session for 2015. Our final class for the year will be on Tuesday evening, (juniors aikido followed by iai). Some kyu aikido gradings were conducted to wrap the year up. Congratulations to James Webley 5 kyu, Leonie Tibbetts 4 kyu, and Georgia Fleischer who smashed 2 kyu and Rob in the process. The other week (8 December), there were also tests for some of the juniors. Great work by Nakula Wrightson 5 kyu and Narada Wrightson 3 kyu. Anyway, there were happy faces all around for a spot of lunch after class. Thanks to everyone for your work during 2015. Looking forward to 2016. See you Thursday 7 January.

QKR Seminar
Dec 14, 2015 by Dave
We had the summer QKR Seminar over the weekend. We were lucky to get a great opportunity to train with Tsukadaira Sensei from the Gold Coast. There were also gradings yesterday. Here's a couple of photos of Narada and Sundara Wrightson in grading action, passing 3 kyu and 1 kyu respectively. Looking good!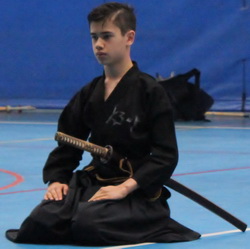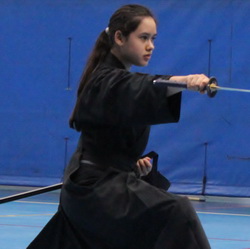 End of Year Classes
Dec 10, 2015 by Dave
2015 is quickly drawing to a close. Due to the QKR Seminar this weekend, there will be no iaido at Wynnum on Sunday morning. Aikido will commence at the earlier time of 8.00am.
There will be no juniors aikido or iaido next Tuesday 15 December. Normal schedule then up until Tuesday 22 December which will be our last class for 2015. Training will resume in 2016 on Thursday 8 January.
No Training Thursday 19 November
Nov 11, 2015 by Dave
Apologies, I've got a work function to attend next Thursday, 19 November.
Japan (Again) November 2015
Nov 11, 2015 by Dave
Made it to Japan again and got back last Sunday. In short, the quest for iaido 6 Dan continues with another unsuccessful attempt.
This time the test was held in Tokyo on Saturday 7 November at the Edogawa Sports Centre, and yes I have been there before.
Again, I can't complain about the trip though, the quality of the training, or the support that I received.
I spent a few days in Osaka. Mitsuyuki Sensei from Dai Ken Kyo generously devoted several hours teaching me at the top floor dojo in the sky at Yao. Thanks also to Mitsuhiro Tsukamoto for your hospitality.
On Sunday 1 November, I was lucky to be able to enter the Osaka Kendo Renmei Iaido Dan Betsu Taikai due to another entrant dropping out because of illness. The day was essentially competition divided into dan grade levels and included demonstrations by the senior teachers. I managed to go okay and it was an honour to go up against my friend Shigenobu Iwamoto. This was obviously a great preparation for the grading test and I even picked up a cool certificate to take home.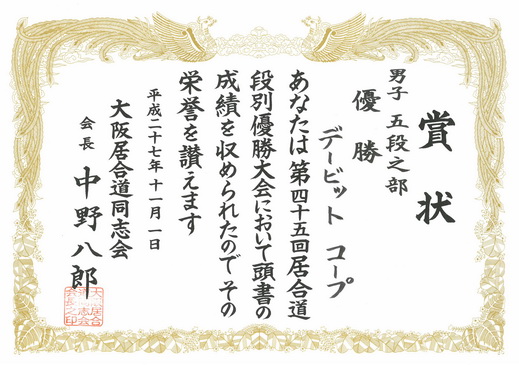 Afterwards, I joined the party held at a Chinese joint in downtown Namba. A lot of the teachers were there including Nakano Sensei (Osaka Iaido Bucho), Yagyu Sensei, Tamagawa Sensei, also Mitsuyuki and Yamauchi Sensei. It started off pretty formally with a group photo, but after a few drinks the Karaoke Taikai kicked off. Luckily for the locals, I didn't manage to drink enough to be persuaded to join in.
Whilst in Osaka, I also found time for some aikido at Shosenji. Shimamoto Shihan has had an extensive overseas travel schedule this year, but was in fine form. It was also great to see Mama san looking so well. Thank you for taking care of me again.
I also caught up with Tamayuki san and went out for something to eat a couple of times. Disturbingly, he is still putting ice into his beer.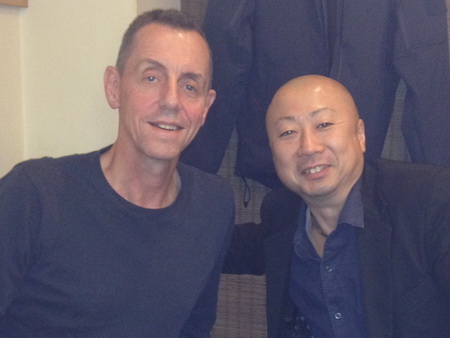 On the Wednesday, I went up to Tokyo and joined an iaido seminar held at Toyoda, which is right out of town. Also attending was Tsukadaira Sensei from the Gold Coast who has been a big help to me in my preparation. The instructor group featured some big names from the ZNKR like Kishimoto, Kobayashi, Kusama, and Oda Sensei, who provided a solid few days of Zen Ken Ren iai in detail. In the final session, we all got to put on our montsuki and go through a pre grading embu.
Then it was across town to Edogawa. The requirements for the test were two free choice koryu kata and Zen Ken Ren #4, #7, and #11. I was happy with that, apart from #11 which I probably hadn't practised that much. As far as I was aware, I didn't make any major mistakes and overall felt I was in with a good chance.
Unfortunately, still no cigar. The good part is that I feel that I am still improving and can make a bigger effort. The bad part is feeling that I am letting down all of the teachers, my family and friends that keep supporting me. Anyway, if it wasn't a challenge, it wouldn't be worth doing.
Now getting ready for my next attempt….
Classes Suspended 30 October to 8 November
Oct 29, 2015 by Dave
Just a reminder that I am out of town next week. As a result, classes are suspended at Wynnum and Newstead from Friday 30 October to Sunday 8 November inclusive.
All back to normal from Tuesday 10 November.
Dave Brown in Town
Oct 29, 2015 by Dave
Advice from the Ronin is that Dave Brown Shihan 6 Dan will be up from Melbourne and in town for about ten days. At this stage he will be teaching at the Brisbane Aikikai on Wed 28 Oct (6-7.30pm), Fri 30 Oct (3.30-5pm), Sat 31 Oct (9am-4.40pm).
Grading Results
Oct 29, 2015 by Dave
We've had some aikido gradings over the past month or so. For the juniors, Aidan Corey 9 kyu and Sivasa Wrightson 10 kyu on 15 September and Emiko Kolb 10 kyu on 22 September. Roberto Quesada transitioned to the senior ranks with 4 kyu on 22 October. We'll have a few more in the lead up to the New Year, but in the meantime well done to you guys for all your hard work.
IJSC Update
Oct 29, 2015 by Dave
Reminder that the Iaido Jodo Seminar and Championship in Perth at the end of January is looming. Applications will be due in December. Breaking news is that Namitome Sensei, Hanshi 8 Dan Jodo and Kyoshi 8 Dan Iaido, has confirmed his attendance as part of the Japanese instructor delegation.
Timetable Changes
Oct 04, 2015 by Dave
Andrew Williamson Sensei will be teaching at the Brisbane Aikkai from 16-18 August. Consequently, no classes that weekend. Head up to Newstead instead.
Also, I will be away from Friday 30 October to Sunday 8 November, Bayside classes are suspended for that period. All is not lost however, with Dave Brown Sensei being in town for that period. Details to follow.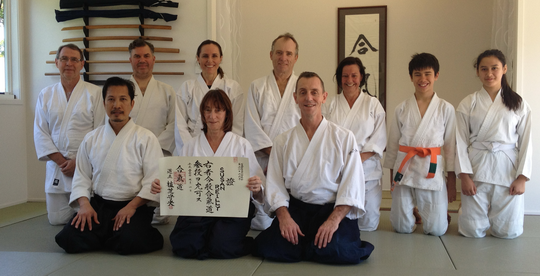 Certificate for Sue
Oct 04, 2015 by Dave
Sue Reilly made it down this morning, after an extended break due to injury. It was great to have her back and get the chance to present her 3 Dan certificate from back in April. Thanks again for Shimamoto Shihan for coming and conducting the test. Pretty good roll up for a long weekend as well. Plenty of happy faces after the Wallabies knocked England out of the Rugby World Cup and anticipation for an all Queensland NRL Grand Final later today. All is good.
Japan: July 2015
Jul 15, 2015 by Dave
I made it to Japan for a week or so from the 3rd of July, the purpose being for yet another attempt at 6 Dan in iaido. It ended up being pretty full on.
The first day (Saturday) was spent at the Tokurenkai Seminar which are fairly regular events for the iai community in Osaka. It ended up being a big day which included a demonstration with the other iaido grading candidates from Osaka. In the evening it was back to Shosenji Dojo for aikido keiko with Shimamoto Shihan. Sunday was back to iaido with a good class covering grading requirement with Shokoji Sensei at Dai Ken Kyo Club training. On Monday and Wednesday evenings I headed across town to train with Matsumoto Sensei at his home dojo. Tuesday evening I went to the Shudokan at Osaka Castle, where we did another grading preparation demonstration in front of the whole group.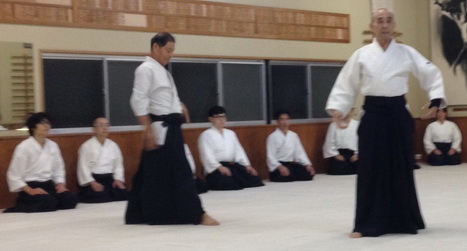 This time around the examination was held in Yonago in Tottori Prefecture. I headed down there by train on Thursday. On arrival, I had a bit of free time to check out the local Mister Donuts and the site of the former Yonago Castle perched on the top of a hill overlooking the town.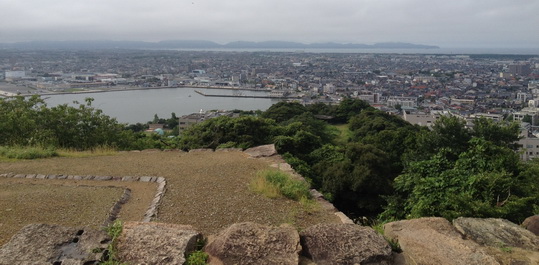 The grading was held on Friday at the Yonago Budokan, which was a pretty amazing place. I caught up with Ramon and Russell Lawrence from Perth who were also attempting grades. This time around I had everything going for me, a good preparation and even a great floor, no major mistakes, a pass rate close to 30%, but still the result didn't go my way. The good news was that the Osaka crew proved pretty successful with three passing 6 Dan and one for 7 Dan, the 6 Dans included Kataoka Sensei from Dai Ken Kyo. I was told the lady who passed 7 Dan had about 14 attempts at 6 Dan but passed 7 Dan on the first attempt. So there is still hope.
I hung around in Yonago afterwards for the Zen Nihon Kendo Renmei Iaido Seminar the following day. There was a pretty big contingent attending from Osaka along with groups from all over Western Japan. There were some real heavy weights on the teaching panel which was headed by Kawaguchi Sensei. They included Mitani Sensei, Ogura Sensei, and Kusama Sensei who I was lucky to get supervising the 5 Dan group. A really amazing level of quality instruction.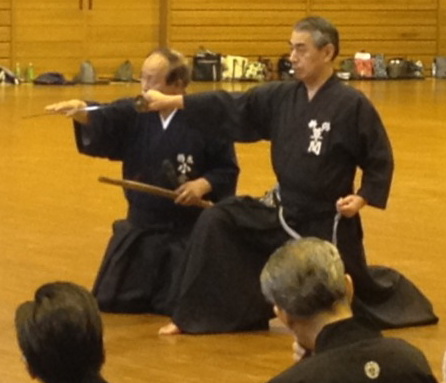 The plan was to head home Sunday night from Osaka. However a flight cancellation intervened, so the return journey ended up being Monday/Tuesday via Tokyo and Melbourne. Anyway I made it back safely and things are back to normal on the Bayside as I dust myself off and get back to the drawing board.
Class Changes in July
Jun 20, 2015 by Dave
I'm otherwise committed for a week or so next month, so there are some changes to scheduled classes. No training at Wynnum or Newstead from Friday 3 July to Friday 10 July inclusive. All back to normal from Sunday 12 July. Apologies for any inconvenience.
Bill Gleason Sensei in Brisbane
Jun 15, 2015 by Dave
We had a fantastic weekend of aikido with Bill Gleason Sensei. For those unfamiliar, Bill Gleason is one of a very few people able to demonstrate and teach the principles of internal power inherent to aikido. In other words the"aiki" part of aikido. The training is not easy and certainly challenging to be taken out of your comfort zone. Big thanks to Gleason Sensei for coming all the way from Boston to teach his stuff out in the boondocks at Gumdale . We also owe a big vote of thanks to Steve Seymour from Sydney for facilitating Sensei's visit to Australia, Michael Nash, and Kim Walker (Mr and Mrs) for organising the Brisbane leg of the tour. Unfortunately sickness and injury prevented attendance by most Baysiders, although Col soldiered through Sunday and picked up some weapon skills along the way. The only downside was an overall disappointing turnout by the Brisbane aikido community, those who did attend benefited from fewer numbers and getting hands on. For the people out there that didn't make it….well you missed your chance.
Class Changes
Jun 1, 2015 by Dave
I'm out of town with the Jo/Iai East Coast Seminar in Canberra with Nagayama Sensei next weekend and the following weekend Bill Gleason Sensei is in town for aikido.
Consequently, there are some changes to scheduled classes. No training next Sunday 7 June. No Iai at Newstead on Friday 12 June and no aikido on the Bayside on Sunday 14 June. Iaido will be on, but we will start swinging swords at 0700 rather than 0800.
Upcoming Events
April 29, 2015 by Dave
There are as few event in the pipeline in June. Nagayama Sensei will be in Canberra over the Queen's Birthday Long Weekend 6-8 June, teaching jodo and iaido as part of his annual East Coast Tour. Much closer to home, Bill Gleason Sensei will be visiting Brisbane and conducting an aikido seminar on the following weekend 12-14 June. Friday night will be at the Brisbane Aikikai and Saturday and Sunday at the Ohori Dojo at Gumdale.
Timetable Changes
April 29, 2015 by Dave
Brisbane Aikikai will be hosting Takase Sensei next weekend 1-3 May. As a result there will be no iaido at Newstead on Friday 1 May. Also Sunday morning iaido at Wynnum will be from 7-8am, aikido Sunday morning is cancelled. Aikido fans should head to Brisbane Aikikai for the class with Takase Sensei from 9am-12md.
Also, I will be out of town for a few days early next month. There will be no aikido at Wynnum on Thursday 7 May or iaido at Newstead on Friday 8 May.
Dojo Opening and Seminar with Shimamoto Shihan
April 29, 2015 by Dave
We've just had a fantastic weekend with Shimamoto Shihan. It was a pretty tight schedule, arriving Friday, an introduction to zazen on Friday evening, dojo opening keiko on Saturday afternoon, and open seminar all day Sunday and then back to Japan later on Sunday night. We were still putting finishing things in the shed on Thursday evening so we can literally say that the first class in our new dojo was taken by Shimamoto Sensei. It's also fair to say that we are pretty unlikely to have a better aikido class there from now on, or at least until Sensei visits us again.
Due to space restrictions we were only able to cater for limited numbers on Saturday afternoon. However on Sunday, due to the hospitality of Stewart Brain Sensei we were able to enjoy the extra space at the Ohori Judo Club at Gumdale. As always, time spent in classes with classes with Sensei tend to fly by, this time around he stressed the importance of shizentai (natural posture) and opening the chakra points. He kept returning to that theme and was really in great form.
Sunday finished on a high note with Dan gradings. It was a great effort by all the candidates and congratulations to Joanne Dinh 2 Dan, Sue Reilly 3 Dan, Damon Schearer 4 Dan, and Lynford Rosos 4 Dan. Everyone did very well but there's been a lot of talk about the Ronin's performance, as being quite sublime.
It is hard to express how grateful we are for Sensei to take time out from his busy schedule to come all this way to support us. The only sad note was that Mama San couldn't join us this time.
Personally I'd like to thank everyone who has supported getting our little dojo up and running, and organising things on the weekend. The list is long, but special mention has to go to Sharma, Rob, and Col for bringing their handyman skills. Thanks also to everyone who came and supported the event and a really big acknowledgement for Patrick Lloyd who came down from Noosa and interpreted for Sensei during the seminar.
Here's a few shots of Shihan in action on the Bayside.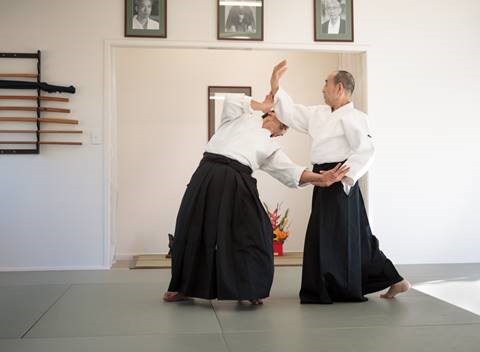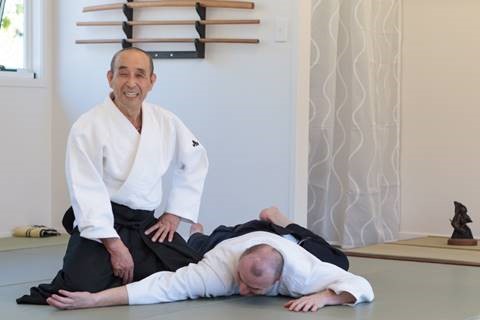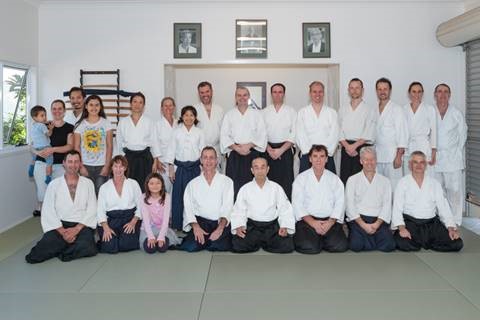 Shimamoto Shihan in Brisbane 2015
Mar 1, 2015 by Dave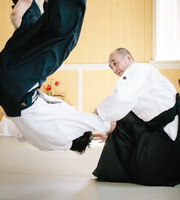 Bayside Budokai is pleased to announce an aikido seminar with Shimamoto Shihan from the Toyonaka Shosenji Dojo in Japan.
Shimamoto Sensei (8 Dan) is one of the most renowned Aiki-kai teachers in Western Japan and was a student of the late Osawa Sensei, former Hombu Dojo-cho.
In daily life, Sensei is a Buddhist priest and master of the Shosenji Temple. His graceful style of aikido reflects a unique integration of aikido and the principles of Zen.
This is a rare experience to train under a master level teacher and should not be missed. All Aikido students, regardless of experience or affilation, are warmly welcome to attend.
DETAILS
Sunday 26 April 2015 9.00am - 12.00pm 1.00pm - 3.00pm 3.15pm – 4.00pm (Grading Tests)
Ohori Judo Club
40 Molle Road
Gumdale Qld
Cost: $50 per session $80 full day Lunch (optional) $10:
Inquiries: Dave Kolb 0409 250065 dkolb@bigpond.net.au
IJSC 2015
Feb 21, 2015 by Dave
The AKR Iaido Jodo Seminar and Championship was held in Canberra from 19-25 January 2015. I went down for a few days with Sue and Sharma making up the rest of the Bayside contingent. Turned out to be a pretty successful week, Sharma won the individual 1 Dan iaido competition and then passed the examination for 2 Dan. Special congratulations to Sue Reilly who passed 4 Dan iaido. What a great effort! Here is a picture of the happy and successful grading candidates.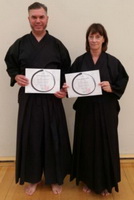 Doshu Seminar Aiki kai Australia 50th Anniversary
Feb 21, 2015 by Dave
After Canberra I made it to Melbourne and managed to attend classes by Aikido Doshu Moriteru Ueshiba at the Aiki Kai Australia 50th Anniversary Summer School. Whilst down there I managed to catch with the Bayside Ronin and our friend Roland Stettler.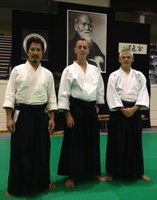 Upcoming Events
Feb 21, 2015 by Dave
No shortage of events in the pipeline. We are happy to announce that Shimamoto Shihan will be visiting us from 24-26 April. This will be closely followed by a seminar with Takase Shihan hosted by the Brisbane Aiki Kai on the following weekend. On the iaido/jodo front Nagayama Sensei will be conducted the annual East Coast Seminar in Canberra over the June Queens Birthday long weekend. Then back in Brisvegas there will be an aikido seminar with an internal power flavour by Bill Gleason Shihan 7 Dan from 12-14 June. Exciting stuff. Stay tuned for details.
Welcome to 2015
Feb 21, 2015 by Dave
Welcome back for 2015. Unfortunately, preparation of our new training venue is proceeding a bit slower than expected meaning that classes at Wynnum are yet to resume. However, Friday evenings at Newstead are on and the Bayside Budokai crew have been out and about continuing their training.