Trip to Japan 2009
By David Kolb
Our trip to Japan in November 2009 was all about bonding with the grandparents as far as Emiko was concerned and training for me.
This time we landed in Narita where we stayed overnight before heading up to Sapporo.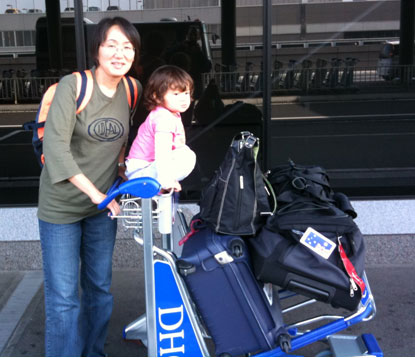 Naoko and Emi handle the bags at Narita Airport
After a day or so I left the girls in Sapporo and headed to Tokyo. With Oda Sensei's assistance I had managed to get included in an iaido seminar hosted by the Dojo Renmei in Toyoda. This was a live in event over three days immediately preceding the iaido 6 and 7 dan examination in Tokyo on 13 November. The instruction panel was headed by Kishimoto Sensei who is the Chairman of the ZNKR grading panel.
The other teachers were Kobayashi, Kusama, and Oda Sensei also 8 dan Hanshi who are all coincidentally also on the grading panel. The seminar therefore, is a chance to get the drum on the grading expectations from the source.
The other teachers were Kobayashi, Kusama, and Oda Sensei also 8 dan Hanshi who are all coincidentally also on the grading panel. The seminar therefore, is a chance to get the drum on the grading expectations from the source.
There were about 40 participants squeezed into a relatively small dojo. They proved to be a pretty high powered group with a good proportion being already 6 or 7 dan. This meant that there were a good proportion of shinken whistling about and providing that extra incentive to get well out of the way.
On the first afternoon we practised together as a general group and taking turns on the floor in consideration of the space. Over the two hours or so we managed to get through the 12 ZenKenRen kata with Kishimoto Sensei emphasising important points.
A big thing was the differentiation between the first five kata where the kissaki ends being below horizontal on the cut and the remaining seven where the sword stops horizontal to the floor. He also pointed out the correct method to transition into the cut in ropponme (Morote Tsuki) and the use of the uke nagashi movement in other kata, notably nanahonme and jupponme.
That night I remember asking Marcus what he thought we would be doing for the rest of the seminar seeing we had already covered seitei. He reckoned it would be more of the same. You know what?… he was right.
Due to the cramped conditions we ended up practising in groups. Marcus and I ended up in the group being supervised by Kishimoto Sensei. This involved doing each kata at least 12 times before rotating through and then having a long time to cool down before the next turn. By the time we finished the seated kata my legs were shot. During practice nothing much escaped Kishimoto Sensei who took my performance of Morote Tsuki apart in no uncertain terms.
The final day's practice consisted mainly of embu by the various groups with particular emphasis on those attempting a grading the following day.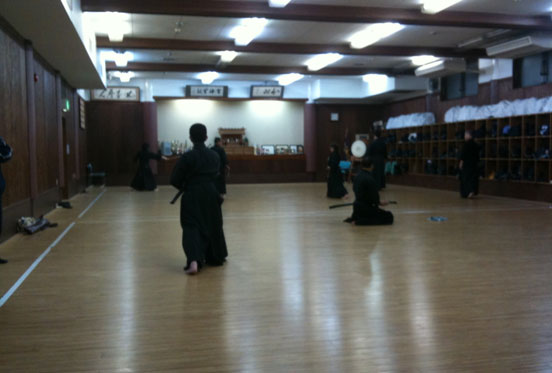 After hours practice at Toyoda
After the seminar Marcus and I accompanied Oda and Kobayashi Sensei across town to Edogawa where the gradings were to be held. Before leaving however, we got to witness a group of candidates go through their stuff in front of the sensei. They looked good to me but the comments were pretty blunt, hard markers to say the least. On top of that one of the guys cut himself, whilst there is never a good time for it, this would be up there with one of the worst.
The grading panel need to be seen to be completely independent so Marcus and I went our separate way from Oda Sensei on arrival at our hotel. We took a break from things Japanese that evening finding a nearby Italian place.
Next morning we joined the gathering horde of iai nuts at the Edogawa Sports Centre. We ran into Nagayama Sensei and also Igarashi san who was flogging off swords and other paraphernalia. I also spotted David Leyland from Osaka who was having a crack at 6 dan. I caught up with him after his test and his first question was whether I had happened to bring some Fourex with me. Naturally, the answer was no but I could understand why he would be looking for a drink.
There were some 236 candidates for 6 dan and a further 142 for 7 dan. The way it worked was to divide the pool into two courts with candidates being progressively presented in groups of four. With the numbers testing this meant a production line process that went on for hours.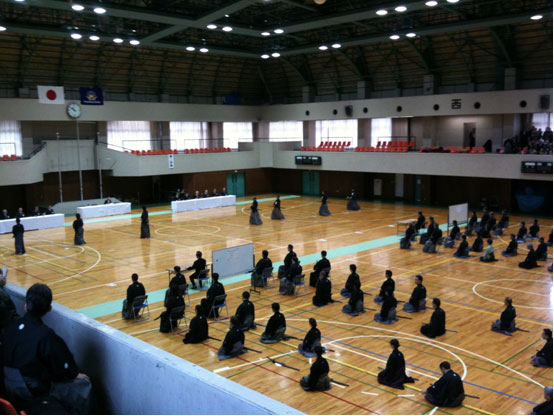 Part of the 6 Dan Grading Line up
The pass rate was 12.7% for 6 dan and 10.7% for 7 dan, in short a field of broken dreams and shattered egos, enough to fill any potential candidate with dread. If the dojo stewards had been be blowing whistles and ordering candidates over the top, the whole scene would have resembled the Battle of the Somme, without mud, artillery, and not quite so much blood.
Anyway after watching the tests up until about lunch time I made my way into Tokyo and on to the train to Osaka where I was to spend the next week at Shosenji practising aikido and also getting some more work done on my iaido.
Typically, Shosenji was pumping. Sensei and Mama san were well as were Tamayuki, Akiko and the boys. Also I got the chance to catch up with Ginny from Singapore who I'd met previously at Sensei's seminar at Shinju-kai.
Saturday proved to be a big aikido day. I did the morning class, after lunch went with Sensei to a class at the Cultural Centre in Umeda and then back to Shosenji for more training that night. Felt a bit tired afterwards.
Next (Sunday) morning I was up early and headed across town to Tennoji where I met up with Obayashi Sensei. He guided me to regular Dai Ken Kyo practice in a high school gymnasium led by Ikeda Sensei. I got to catch up with the Dai Ken Kyo regular members as well as Kubo, Mitsuyuki, and Yamamoto Sensei.
Now 83, Ikeda Sensei gave me a warm welcome and was really on the ball. We had a run through of seitei and then put me with Mitsuyuki Sensei for some individual attention. As well as supervising the rest of the group, Ikeda Sensei dropped by to give pointers and advice.
At the end of that session I went with Mitsuyuki Sensei over to Yao where he has started another dojo. The place was in his regular kendo dojo which was literally perched on top of a high rise building housing a community centre. Access was by going to the roof and then going up another ladder like set of stairs. Anyway after arriving I got another invaluable couple of hours of iai. By now it was decided that I would make an attempt at 6 dan next year and training was geared up accordingly.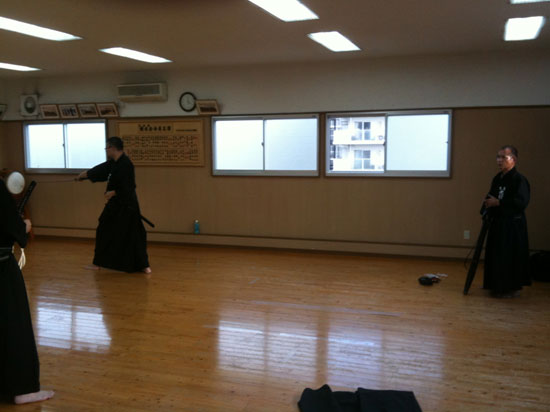 The dojo in the sky with Mitsuyuki Sensei
After training I headed back to Osaka and through sheer coincidence ran into former Bayside Budokai regular, Gotaro Kitayama at Umeda. We had a bite to eat together or rather I got to watch Gotaro feed. Between bites Gotaro revealed that having moved back to Japan, he and his family had decided to relocate back to Brisbane. He was relieved to hear that the water restrictions had been relaxed and that he would now be able to wash his car.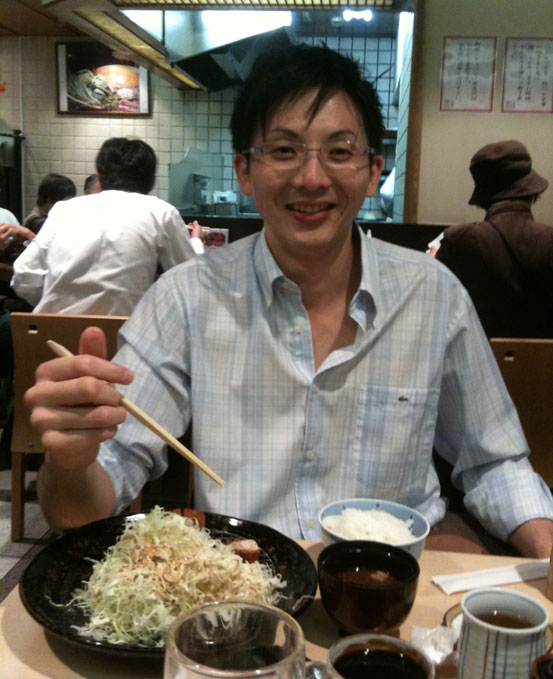 Gotaro eating
More iai was to follow during the ensuing week. I made it to the Shudokan on both the Tuesday and Thursday nights. The Thursday night was memorable for all the wrong reasons when Mori Sensei decided to call a halt to proceedings in order properly and publicly address my various faults.
On the Friday evening I met Obayashi Sensei and joined in the practice at Yagyu Sensei's dojo. I had been there previously and always found them to be a cool bunch. The session included going through all of the Eishin kata including oku iai which I rarely get to practise. Apart from stuffing up noto for Kabe zure things seemed to go reasonably well.
Back at Shosenji I made it to classes by Shimamoto Shihan on the Monday, Wednesday and Saturday. I also got special dispensation to attend the Ladies Only class on the Friday morning.
Tamayuki-san's latest hobby is fishing, lure fishing to be precise. We were scheduled to go fishing on the Tuesday but got a reprieve due to rain. We headed over to Kyoto instead and hit the Budo Stores near the Butokuden. Is there anything else to see in Kyoto?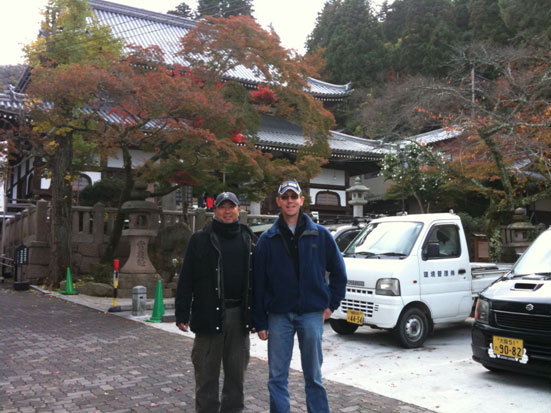 Tama and me
The new Tozando store looks great and caters well for foreigners. I picked up some stuff for the gang at home and one of the umbrellas that look like a sword. Just the thing for wet mornings on the "6.34" to Roma Street.
Ginny and I ended up accompanying Tama to go fishing at Awajishima on the Thursday. It was fun but after a few hours of tossing lures without any prospect of fish, we were ready for a break, Ginny and I that is. Tama dropped us off at an onsen while he kept on perfecting his lure technique for a few more hours.
There were a couple of onsen in adjoining waterfront hotels. Being a mid week afternoon the place was literally deserted and I had one of the baths to myself, including the rotemburo on the waterfront.
One of the highlights of staying at Shosenji this time around was meeting Ze'ev Erlich from Israel. Sensei made a trip to Israel last year and conducted a seminar there, his description of Ze'ev as being a good guy proved to be correct. Ze'ev was accompanied by his friend and dojo member, Shemuel. They had come to Japan to attend some meetings at Hombu Dojo and their trip to Osaka was to coincide (like mine) with a seminar by Doshu Sensei on the weekend.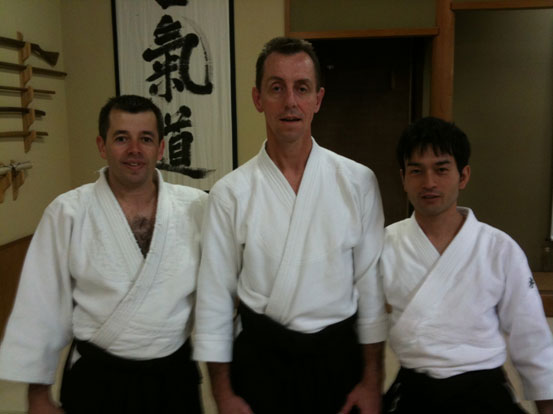 Ze'ev, me and Kinopi at Shosenji
One other evening a French girl named Juliette and a travelling companion arrived at the dojo. Typically they were welcomed into the fold, joining the classes and the various after training socialising events.
On Saturday morning I headed over to Itami Airport and met Emi, Naoko and Obachan as they arrived from Sapporo. The plan for them was to overnight in Osaka before heading home the following evening. I joined the girls and headed over to help check into their hotel near Universal Studios. We all went to the aquarium that afternoon.
After the aquarium expedition I returned to Shosenji. The plan was for Emi to spend the following day at Universal Studios whilst I attended the Doshu Seminar, following that we would all meet up at the airport to head home.
That evening Mama san had invited her Latin jazz singing teacher over. She joined the aikido class and afterwards gave an impromptu concert in the kitchen. What followed was another of those Shosenji moments when Dave Gomez, performance artist extraordinaire, hit the floor for a spot of latin dancing with Mama san.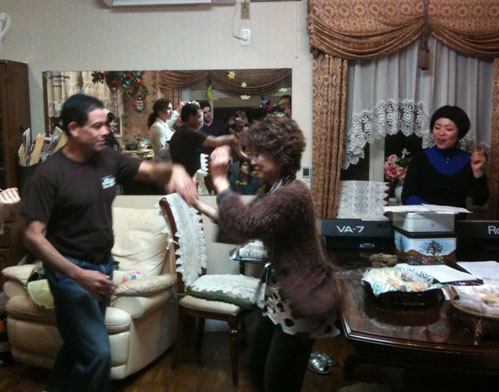 Dave Gomez and Mama san go Latino
A major operation kicked off the next morning for the seminar by Doshu. The event was conducted at the Hibiki Budokan which technically made Shosenji the host of the venue. The koshukai was an annual event attended by the various Aiki kai dojos from all over Kansai and attracted a couple of hundred people. Needless to say it was pretty crowded but at least you could take ukemi not like Doshu's class at the IAF Congress in 2008 where it was literally standing room only.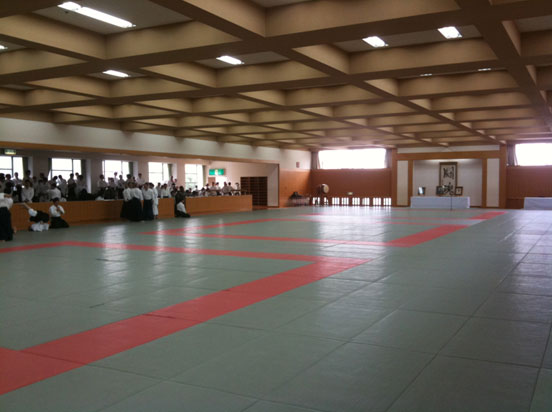 Hibiki Budokan prior to the koshukai
All in all, it was a good session and I managed to see a few old friends amongst the throng. Once it was over I raced around and said my goodbyes. This included Ze'ev who commented that with Shosenji having now become the undoubted centre of the universe we would obviously be seeing each other again.
The Shosenji crowd proceeded into Umeda for a reception with Doshu whilst I made way back and picked up my bags and headed to the airport. I met up with the girls after their day at Universal Studios and we were soon on our way on another blissful flight.
Just in closing if you ever get the idea that having your kid throw a full on screaming tantrum in the arrivals hall will get you a fast track through Customs…think again.