Christmas New Year Break
Dec 7, 2010 by Dave
Our last class for 2010 will be on Thursday 23 December. We will kick off again in 2011 on Sunday 2 January. Go easy on the New Year celebrations.
Upcoming Events
Dec 7, 2010 by Dave
We will have an aikido kyu grading in conjunction with class on Sunday 19 December which will be followed by an informal Christmas gathering. Also the first event in the new year will be the AKR National Iaido and Jodo Seminar in Melbourne from 24 to 30 January. There will be some impact on regular training during this time.
Shot Down in Flames
Dec 7, 2010 by Dave
I made it back from Japan in more or less one piece after an unsuccessful tilt at the 6 dan grading in iaido in Tokyo on 20 November. Apart from the actual result it was an invaluable experience. I joined Jeri James and Ramon Lawrence Sensei from WA and Tsukadaira Sensei from the Gold Coast for a couple of days training under Oda Sensei and Katsumata Sensei in Hakone before we headed to Tokyo for the Dojo Renmei Seminar with Kishimoto Sensei in charge. I learnt heaps and felt that I put in a reasonable performance on the day, not good enough to get over the line unfortunately. The only consolation is that of the 238 people attempting the test there were 197 in the same boat as me, a 16.2% pass rate. It would seem that the ZNKR doesn't give away 6 dan to anyone who shows up.
I really appreciate the patience and support given to me by everyone here and in Japan. I'll have to make a bigger effort next time around. Here's a snap of me before things went pear shaped and another indicating that I can at least sit in seiza.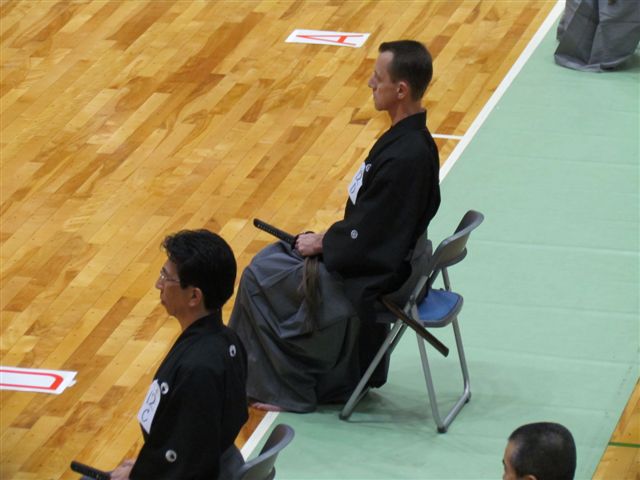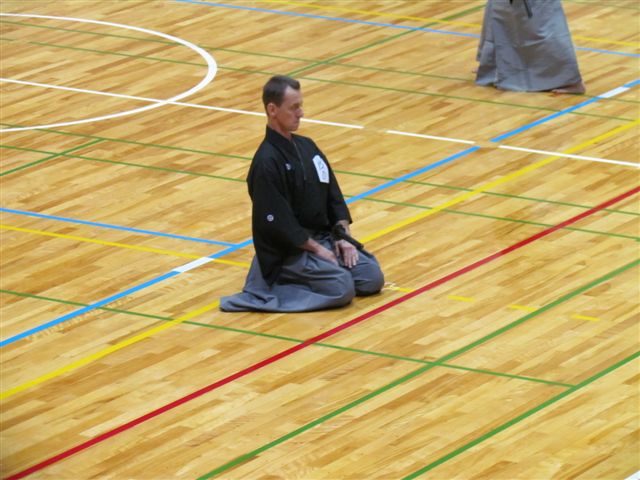 Iaido Grading
Oct 27, 2010 by Dave
We had an iaido kyu grading yesterday (Sunday 24 October) as part of the lead up to the National Seminar in Melbourne in January. Alan Meehan (Kohokai), Darcy Eaves (Tengenkai), and Georgie Sexton (Bayside) got 1 kyu. Georgia Schlink (Tengenkai) also nailed 3 kyu. Well done everyone. Thanks also to Isaacs Sensei for coming down and providing QKR approval.
Junior Artistic Talent
Oct 10, 2010 by Dave
Congratulations to Sundara Wrightson for her award winning portrait displayed below.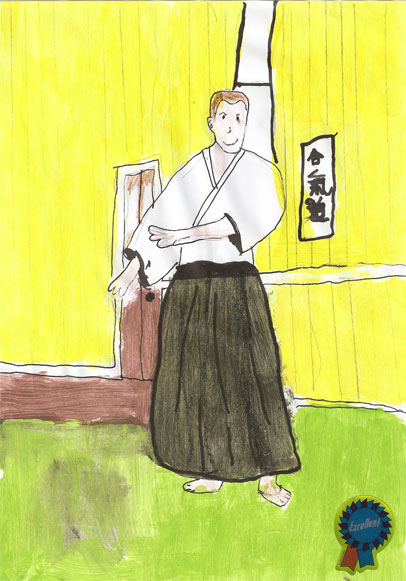 Normal Programming Has Now Resumed
Sept 9, 2010 by Dave
With my return from Japan, the schedule is now back to normal. See you at training.
Japan Was….Hot
Sept 9, 2010 by Dave
The girls and I have made it home in one piece while Sue Reilly has a few more days sweating it out on the tourist trail and in the dojo. Essentially, Emi and Naoko spent time in Hokkaido while I joined Sue in Osaka to enjoy some aikido and iaido and the reported hottest summer in 113 years. The hot weather was well and truly matched by the warm hospitality of Shimamoto Shihan and members of Shosenji Dojo as well our teachers within the Dai Ken Kyo Iaido Group.
The big news out the trip was that we were able to undertake aikido grading tests by Shimamoto Shihan last Saturday evening (4 September). Sue Reilly received a well deserved 2 Dan, and yours truly managed to trade in the old 3 Dan. This has come about through the ongoing support provided by Shimamoto Shihan and the assistance of Tani Sensei of the International Division of Hombu Dojo who arranged the authorisation for Shimamoto Shihan to conduct the examinations. For the Bayside Budokai, the significance is that an avenue has now been established for our members to be awarded internationally recognised Dan Ranks issued by the Aiki Kai Hombu Dojo.
Update on Schedule Changes
August 28, 2010 by Dave
Further to the notice below. Thursday night aikido classes will continue during my absence from 1 to 12 September. The remainder of the sessions on Tuesday and Sunday at Wynnum and Friday at Newstead are cancelled. Everything will be back on track as of Tuesday 14 September. Sorry for any inconvenience.
Changes to Class Schedule in September
Aug 18, 2010 by Dave
I'll be away in Japan from 1-12 September. Coincidentally, Sue Reilly will be there too for some aikido and iaido in Osaka. The upshot is that this will obviously impact on training at Bayside. At this stage there will definitely be no juniors class on Tuesday 7 September or Sunday training on 12 September. Stay posted for further details.
Aikido Grading
Aug 18, 2010 by Dave
We had some kyu gradings for aikido in June.
The juniors had their gradings on 22 June: Flynn Jullyan 6 Kyu, Jae Rundle, Roberto Quesada, Annika Quesada 7 kyu, Oliver Sutton 8 kyu and Stevie Newcastle, Josie Wills 9 kyu.
For the seniors on 27 June: Tim Hanlon 2 kyu, Colin Tibbetts, Rob Fleischer, and Scott Reading 5 kyu.
Congratulations to everyone for your hard work.
Training with Nagayama and Ohara Sensei
Aug 18, 2010 by Dave
The visit from Nagayama and Ohara Sensei went off without a hitch. Before the Queensland leg I headed down to Canberra to catch the weekend training and also a cold from hell in one of the refrigerators that doubled as a training venue. Anyway it was great to catch up with the Rodent and the gang from Canberra. The hospitality was warm even if the weather wasn't.
I accompanied the Sensei on their flight up to Brisbane. We had a good turn out for iaido on the Tuesday evening and the mixed jodo/iaido session the following morning.
After lunch we headed up to Noosa where Steve Dodson put us up at Cayman Quays. That evening we did an introductory jodo class at Tengenkai. Patrick Lloyd joined us and helped with translation and became the butt of Nagayama Sensei's jokes in the process. Thanks heaps Patrick. The other highlight of the night was settling down to watch the Maroons smash the Blues in the second State of Origin. Once again we are much obliged to Steve and the crew at Tengenkai.
The following morning we joined Steve and family for a cruise down the Noosa River before heading back to the city.
We went straight to the badlands of Munruben for an afternoon session at Casa Kavanagh. Ohara Sensei taught iai whilst Tom, Sue, Ronin and I got some valuable up close training with Nagayama Sensei. After a quick bite to eat we adjourned to a session of iaido with the Kohokai at Crestmead.
All too soon the whirlwind trip was over and I was getting the Sensei on to their flight back to Japan the following morning.
Thank-you to all the participants from the various QKR dojos who joined in and contributed to the visit.
Here's a photo of the group at Crestmead.
Visit by Nagayama and Ohara Sensei
June 8, 2010 by Dave
I have finally gotten around to working out a schedule for the impending visit by Nagayama and Ohara Sensei. Nagayama Sensei 7 dan jodo/iaido/kendo is the AKR Technical Advisor for jodo. During this visit he will be accompanied by Ohara Sensei 6 dan jodo and 7 dan iaido. As has been the case in previous years, the daytime sessions will be relatively informal and will cater towards the requirements of the attendees.
Tuesday 15 June
Arriving from Canberra.
1800 to 2000 Training at Bayside Budokai (Iaido)
Cnr Bay Terrace and Clara Street, Wynnum
Entrance via Clara Street.
Contact Dave Kolb 0409250065

Wednesday 16 June
0900 to 1100 at Bayside Budokai (Jodo/Iaido)
1800 to 2000 at Tengenkai Noosa (Jodo)
Tewantin Catholic Parish Hall
5 Morindal Street
Tewantin
Contact Steve Dodson 0419020397

Thursday 17 June
1430 to 1630 at Kohokai (Jodo/Iaido)
25-29 Bascombe Court
Munruben

1800 to 2000 at Kohokai (Iaido)
Crestmead Community Hall
6 Gimlet Street
Crestmead
Contact Anthony Kavanagh 0412527283

Friday 18 June
Return to Japan
Visit by Nagayama and Ohara Sensei
May 25, 2010 by Dave
The next item on the agenda will be a visit from Nagayama and Ohara Sensei from June 15 – 18. Nagayama Sensei is the National Technical Advisor for jodo and holds 7 dan in jodo, iaido, and kendo. He will be accompanied by Ohara Sensei, jodo 6 dan and iaido 7 dan on an instructional tour of the eastern states. The training schedule for this leg of their tour is not yet finalised. At this stage it is anticipated that they will be teaching at Bayside Budokai on Tuesday 15 June, Noosa (Tengenkai) on Wednesday 16 June, and Crestmead (Kohokai) on Thursday 17 June. There will also be the opportunity for more informal daytime training.
Stay tuned for further details.
Goodbye to Shimamoto Shihan and Mama san
May 25, 2010 by Dave
Sensei and Mama san have said goodbye after another successful seminar the other weekend. Sensei provided some superb classes in what turned out to be a fairly intimate atmosphere. Big thanks to Shimamoto Shihan and everyone who came along. We are especially grateful to our friends at Yuishinkai and also Brisbane Aikikai for the loan of some tatami.
I will work on putting together a report of the weekend, but in the meantime you can check out some of Sue Reilly's photos which have been uploaded at the following address here.
See if you can find yourself or someone you know.
Next Weekend with Shimamoto Shihan
May 10, 2010 by Dave
Things are on track for the seminar with Shimamoto Sensei next weekend.
As advertised, classes are from 3.00 to 5.00 pm on Saturday and 9.00 to 11.30am and 12.30 to 2.30 pm on Sunday.
The cost is $35 per class or $100 for the weekend which will include lunch on Sunday.
We intend going to the Fig Restaurant at the Waterloo Bay Hotel, on Saturday evening.
Juniors are welcome to attend the Sunday morning class. They should be ready to go at 9.00 am and we'll play it by ear as to how long they are able to continue.
Please note that there will not be any iaido at Newstead on Friday or Sunday morning at Wynnum as a consequence of Sensei's visit.
Looking forward to seeing you there.
Photos from Oda Sensei's Visit
Apr 21, 2010 by Dave
Sue took some great photos during Oda Sensei's visit the other weekend. She's loaded them on to her album located here.
Thanks also to everyone who attended and supported the event, and also Oda Sensei for making the trip. I'm pretty confident that we were all given something to work on.
Next thing on the agenda is aikido with Shimamoto Sensei on 15/16 May.
Easter Training
Mar 27, 2010 by Dave
Classes will continue as scheduled over Easter and the upcoming school holidays. However, the visit by Oda Sensei on the following weekend will mean no training at Newstead on Friday 9 April and no aikido class at Wynnum on Sunday 11 April.
Visit by Oda Sensei, AKR Technical Advisor for Iaido
Mar 27, 2010 by Dave
Oda Sensei, Iaido 8 dan Hanshi has managed to find time in his schedule for a special visit to Queensland.
This is a great opportunity for all members who practise iai. Training will be suitable for all levels from beginners to advanced and attendance should be considered a must for anyone contemplating dan gradings in the foreseeable future.
Friday 9 April
2.00pm to 4.00pm
Bayside Budokai (Cnr Clara Street & Bay Tce, Wynnum)
Saturday 10 April
10.30am to 12.30pm
Lunch
1.30pm to 3.00pm
Kenshinkai Dojo Mt Gravatt High School

Saturday evening dinner. TBA
Sunday 11 April
9.00am to 10.30am
11.00am to 12.30pm
Bayside Budokai Wynnum

Cost
Friday $10

Sat/Sun $30 per day
Contact
Dave Kolb 0409250065
dkolb@bigpond.net.au

Oda Sensei Visit
Mar 21, 2010 by Dave
Oda Sensei has confirmed his visit to Queensland just after Easter. He is due to arrive here on Friday 9 April and depart on Tuesday 13 April. Please stay tuned for details of the training schedule. For those who may have come in late, Oda Sensei is the Australian Kendo Renmei Technical Advisor for iaido and is an 8 Dan Hanshi.
Shimamoto Shihan Seminar
Mar 21, 2010 by Dave
As mentioned earlier, Shimamoto Shihan will be conducting a weekend seminar on 15/16 May. Due to venue availability, training will be on Saturday afternoon, and Sunday morning and afternoon. The plan will include a gathering of some description on the Saturday evening after training. Aikidoists of all persuasions are most welcome to attend. The full details can be located here.
Takase Shihan New Zealand Shinryukan 40th Anniversary
Mar 9, 2010 by Dave
I'm just back from Auckland where I attended celebrations for the 40th anniversary of Takase Sensei's arrival in New Zealand and the founding of the Shinryukan aikido organisation. This was a great event that included a training seminar and social events in the evenings. The training schedule consisted of classes by Takase, Smibert, Sawada, Horii, Masuda Shihan and special guest, Waka Sensei Mitsuteru Ueshiba. In short, the classes were all superb. It was also an opportunity to catch up with a variety of aikido friends from both sides of the Tasman. I shared a room with Bruce and Chris from the Brisbane Aiki Kai who were part of a fairly large international contingent. There were people there from all over the Pacific and the Australians included groups from Aiki Kai Australia, Darius Wingate-Pearce and the crew from Newcastle Aiki Kai and notables like Paul Sinkinson from Sydney. I suppose the point is that we can all play together without the sky falling.
The only negatives were Bruce's snoring and Qantas managing to leave my luggage behind again. Apparently, it is a good idea not to leave your keys in checked baggage when you've got your car in the long term parking.
Once again thanks to Sue for keeping things under control at Bayside Budokai and Naoko and Emi for letting me go.
Lastly, on the subject of travel, I have finally managed to post the account of our trip to Japan last November. It can be found here on the Articles Page.
Visiting Instructors
Mar 9, 2010 by Dave
Things are shaping up for a busy couple of months with visiting teachers.
Firstly AKR Technical Advisor and iaido 8 Dan hanshi Oda Sensei is scheduled to visit and teach on the weekend of 10/11 April (NB This visit is not yet 100% confirmed).
Shimamoto Shihan will be visiting us again and conducting a weekend aikido seminar from 14-16 May.
Nagayama Sensei, joined this year by Ohara Sensei, will be coming to Queensland from 15-18 June as part of their jodo and iaido east coast tour.
Stay tuned for more information as I work out the details.
AKR National Iaido and Jodo Seminar
Jan 28, 2010 by Dave
I made it to Perth and back for the national iaido and jodo seminar. I have to report that the visiting Sensei were once again in fine form. In spite of the 40 plus degree heat it was a great event, thanks heaps for the hospitality of the WAKR. Due to commitments here I had to come back early but a bunch of Bayside Budokai regulars hung around for the championship and grading events. I hear that congratulations are in order for Tony Kavanagh and Tom Johnson for success in the competition and again for Tom for his grading to 3 dan iaido. Well done.
I'd also like to offer our congratulations to our friend the Doctor and Dojo-cho of the Brisbane Aiki-kai for achieving 4 dan at the recent Aiki-kai Australia Summer School.
Back for 2010
Jan 4, 2010 by Dave
Happy New Year to everyone and Happy Birthday to the Ronin, who hit the big 4-0 on New Year's Eve. Classes are now back as per the advertised schedule. At this stage 2010 is looking like a big year with heaps of training events on the horizon. First up, a few of us will be heading to Perth on the annual pilgrimage to the National Iaido and Jodo Seminar, this will most likely mean that there will be no class on Tuesday 18 January. As always the New Year presents a great opportunity to start something new or to get back into training. For current members it also means that the annual membership fee is due. The insurance premium must be paid somehow, unfortunately. Anyway we look forward to seeing you back in the dojo.